Two years ago, Atlanta-based Beck's Hybrids knew it would be expanding, but it underestimated how quickly that growth would occur.
In 2014, the seed supply company committed to creating 100 jobs by the end of 2017 as part of a $60 million expansion of its headquarters—and it's already surpassed that amount.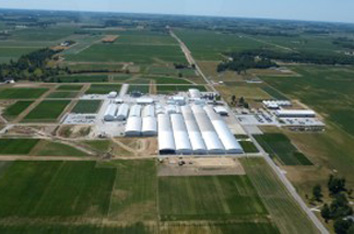 By the end of 2015, 83 new employees had been hired in Indiana, and so far in 2016, 23 more employees have started. It brings Beck's total number of employees up to 369 in the state  and 587 nationwide.
Beck's, the sixth largest seed supplier in the U.S. and third largest in the Midwest, has other facilities in Illinois, Kentucky, Ohio and Iowa. It serves farmers in nine states.
Half of the company's employees have worked there for less than three years because of the ongoing growth—it has tripled in size during the past 10 years.
"If we continue to do things farmers like… We could be three times the size we are in the next 10 years," said Beck's president, Scott Beck, who is the son of CEO Sonny Beck.
The four-year capital expansion project included investing in two 4,000-square-foot greenhouses, an expansion of the biotechnology building, four machinery storage buildings, an additional soybean processing tower and more seed drying and storage facilities.
"We're ahead on hiring and a little ahead on capital," Scott Beck said.
The company is also investing in a new hangar at Indianapolis Executive Airport.
Beck's started using a private jet at the airport in 2001 to fly potential and existing customers to their headquarters in Atlanta. More than 90 percent of the flights taken today are for farmers. The rest of the time the aircraft are used to get company executives to meetings and other business purposes.
Work is almost finished on the new 19,000-square-foot private hangar, which will include 12,000 square feet of space of storage for the company's four aircraft and 7,000 square feet of office space.
Beck's declined to disclose the cost of the project.
The airport is located at 11329 E. State Road 32 in Zionsville, but it is owned by the Hamilton County Airport Authority.
Sonny Beck said company officials regularly fly potential customers to their facility because after visiting, there's a greater chance they become a customer. With hundreds of seed companies in the Midwest, farmers have plenty of other options, so this strategy helps to put Beck's above the competition, according to Sonny.
The new hangar should be finished by Aug. 1.
The father and son duo point to the company's ability to remain private and avoid input from investors as a reason for its ongoing success. It is the largest family-owned seed company in the country.
Sonny Beck said it allows the company to buy ahead or delay purchases as needed rather than basing decisions on pleasing investors.
"It's what gives us a nice advantage in the competitive world we're in," Sonny Beck said. "If it doesn't help our customer, we don't do it."
The other advantage? First-hand experience in the industry.
"We are like our customer. We still farm. We're still making farming decisions like our customer," Scott Beck said.
Most recently, Beck's expanded into Iowa, Missouri and southern Wisconsin. It's a change for a company that once hesitated to expand past the Mississippi River.
Now, Beck's is toying with expansion into Nebraska and Kansas. The company isn't actively seeking business opportunities in those states, but it could choose to serve farmers in the right situation.
"Our 10-year plan would have us expanding geographically," Scott Beck said.
Please enable JavaScript to view this content.