A four-story hotel could be developed near 106th Street and Interstate 69 in Fishers.
Valparaiso-based Good Hospitality Services LLC has proposed constructing a 99-room Fairfield Inn & Suites on the southwest corner of 106th Street and Crosspoint Boulevard. The project is expected to cost $8 million.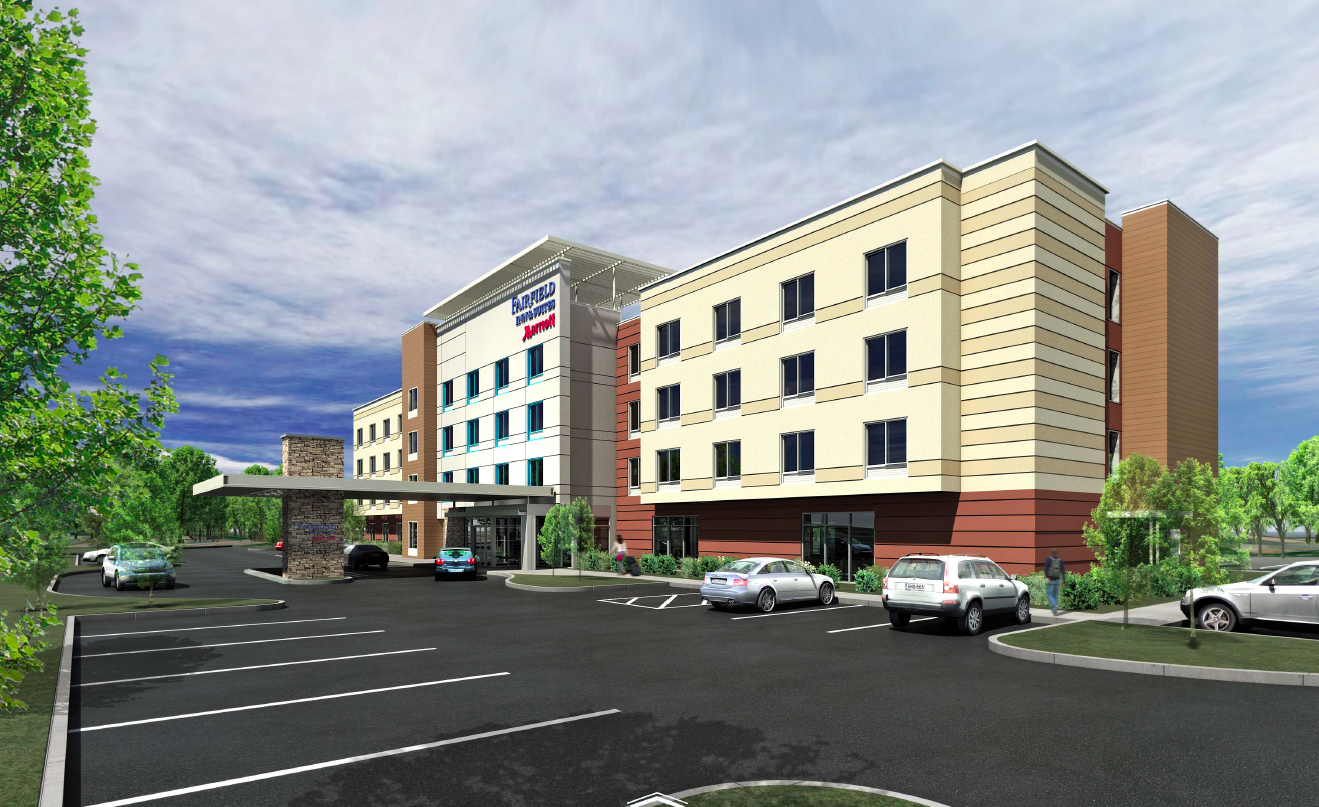 The proposal requires approval from several city committees and the Fishers City Council, which could vote in August.
Jeff Good, president of GHS, said the company would be ready to break ground by fall and possibly open by the end of May 2017, in time for the Indianapolis 500.
The hotel will include a swimming pool, fitness center and two meeting rooms that could be combined to accommodate up to 80 guests. The average room rate will be $110 per night.
East Lansing, Michigan-based HRC Hotels LLC, of which Good is also president, will own the hotel.
HRC has five other hotels in the region, including the new Home2 Suites by Hilton in downtown Indianapolis, a Courtyard by Marriott on the northwest side and three Homewood Suites — one downtown, one on the northwest side and one in Plainfield.
"We really didn't have anything sort of on the east portion of Indianapolis," Good said. "We've been looking at Fishers for a long time."
He said the company likes the Indianapolis market because of the strong weekday visits from business travelers and weekend demand from conventions and events.
"We think it's good year-round, very stable," Good said.
The new exit under construction at 106th Street and I-69 had "a very large part to play" in the company's decision to open a hotel on that site, but the high-profile Ikea store under development on USA Parkway in the Exit Five Corporate Park wasn't much of a factor, Good said.
"I think it's a logical place for anyone to put a hotel," Hamilton County Tourism Inc. President and CEO Brenda Myers said. "I think the market will be able to bear it."
The 10-story, 304-room Drury Plaza Hotel recently opened in Carmel, and at least seven other hotels are either proposed or under construction in Carmel, Noblesville and Westfield.
Myers said there are 10 lodging facilities in Fishers, offering about 1,138 rooms. Carmel continues to have the largest share of the hotel market in Hamilton County, with 1,820 rooms.
"I think it will be a nice addition for Fishers," Myers said.
The project is also expected to include a retail building with possibly a cafe or coffee shop developed by Edgeworth Laskey Properties LLC, which also manages the nearby Concourse at Crosspoint office park.
Good said there have been discussions with Tim Hortons and Starbucks, but no tenant has been identified yet. Tim Hortons announced earlier this year that it would like to open several locations in Indianapolis.
"It enhances that whole corner," Good said. "It will be a nice fit for us."
City Council approval became necessary after the municipality opted for more oversight of new projects near the 116th Street and 106th Street interchanges of I-69.
Any clearing or disturbance of the land and any new building, structure, variance or use must be reviewed by the council under the guidelines. Those guidelines are expected to be temporary until the city updates its existing zoning standards.
At the time the new regulations were approved, Fishers City Council president John Weingardt said if a proposal "is aligned with our vision, then we will support it."
Please enable JavaScript to view this content.