A new frozen treat and burger shop could be coming to Westfield.
Freddy's Frozen Custard & Steakburgers has filed plans with the city to open in the former Bagger Dave's Burger Tavern space at 2740 E. 146th St.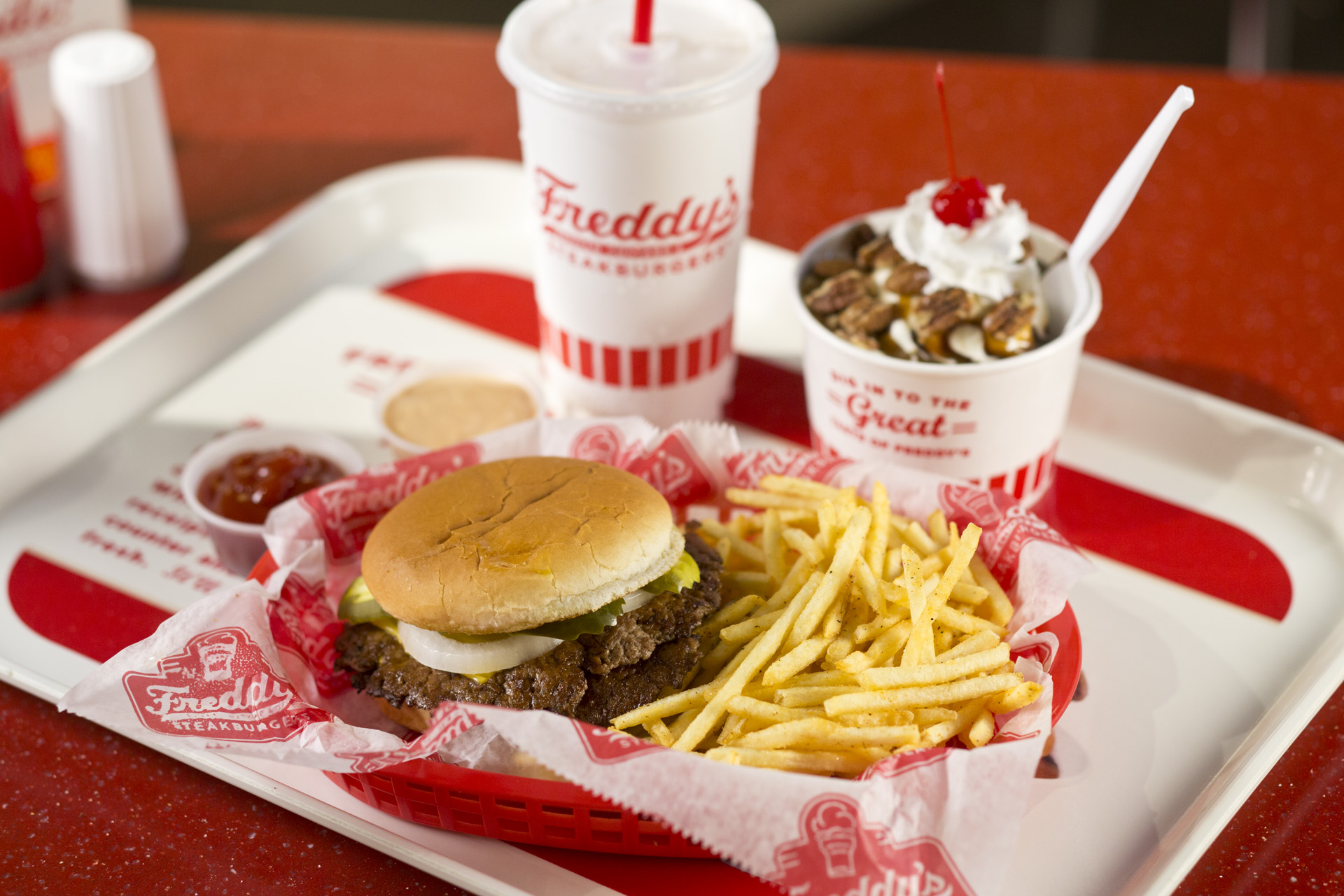 At the end of last year, all five of the Bagger Dave's Indianapolis-area locations closed, including those in Fishers and Westfield.
Freddy's, a fast-casual franchise, is designed to emulate American life in the late 1940s and early 1950s. The menu includes steakburgers, hot dogs, shoestring fries and chocolate and vanilla frozen custard.
The Wichita, Kansas-based restaurant was founded in 2002 by brothers Randy and Bill Simon and their friend Scott Redler. It is named after Randy and Bill Simon's father, Freddy Simon, who served in World War II.
A spokeswoman for Freddy's said the plans for the Westfield location haven't been finalized yet, so there is no timeline for when it could open.
"We're excited to see the plans come together, and we hope we can make Westfield our next stop," spokeswoman Lexie Pearce said in an email. "It's a family-oriented community and a great match for our family-friendly concept."
It would be the company's second Indiana location. The other location is in Evansville. 
In other northern suburb retail news:
• A bakery that specializes in gluten-, dairy- and yeast-free treats has moved to 622 S. Rangeline Road in the Monon Square Shopping Center. Simple Taste had previously operated at 979 Keystone Way.
• And speaking of bakeries, Mandy's Bake Shop has opened at 11009 Allisonville Road in Fishers. The menu includes treats like brownies, cookies, cupcakes, pies and cinnamon rolls. The store also serves coffee from Noblesville-based Noble Coffee and Tea Company.
• Stacked Pickle opened its newest location in Westfield on June 30. The wings-and-burgers sports restaurant located at 17473 Wheeler Road is within the Monon Marketplace development.
• Also at the Monon Marketplace, OrthoIndy has officially opened an office. The urgent care and physical therapy facility is located at 17471 Wheeler Road. The medical center is geared toward patients with recent orthopedic injuries, such broken bones.
• Square Donuts has opened in Fishers. The Indianapolis-based donut franchise took space at 8745 E. 116th St. in the building that formerly housed Tilly's Tea Room.
• The Drury Plaza Hotel near 96th Street and U.S. 31 in Carmel is now open. The 10-story lodging facility includes more than 300 rooms.
• We Rock the Spectrum, a sensory gym designed to help children with their neurological growth and development, is opening a location at 17219 Foundation Parkway in Westfield. According to the gym's Facebook page, it should open in August. We Rock the Spectrum also has plans for a Fort Wayne location.
• Priority Physicians, a membership-based medical practice, will be opening a second location at 13914 Southeastern Parkway in Fishers. The existing office is at 8333 Naab Road within St. Vincent Hospital's campus off West 86th Street.
• Rita's Italian Ice is opening at 8910 E. 96th St. in Fishers.
• The Wine Guy at Grapevine Cottage recently moved. The wine shop was previously open on 96th Street, but is now located at 8235 E. 116th St. in Fishers. Grapevine Cottage also has a store at 61 S. Main St. in Zionsville.
• Potbelly Sandwich Shop opened last month at 11529 Spring Mill Road within The Bridges development in Carmel. 
• Centier Bank is now open at 3002 E. State Road 32 in Westfield.
Please enable JavaScript to view this content.