The owner of the Fuel Tank ice arena in Fishers has more than doubled its expected investment to renovate the facility and now is planning apartments and offices next door.
Indiana Ice Arenas LLC, an affiliate of minor league hockey team Indy Fuel, purchased the ice rink at 9022 E. 126th St. in July 2015 with plans to spend $2.5 million in renovation work.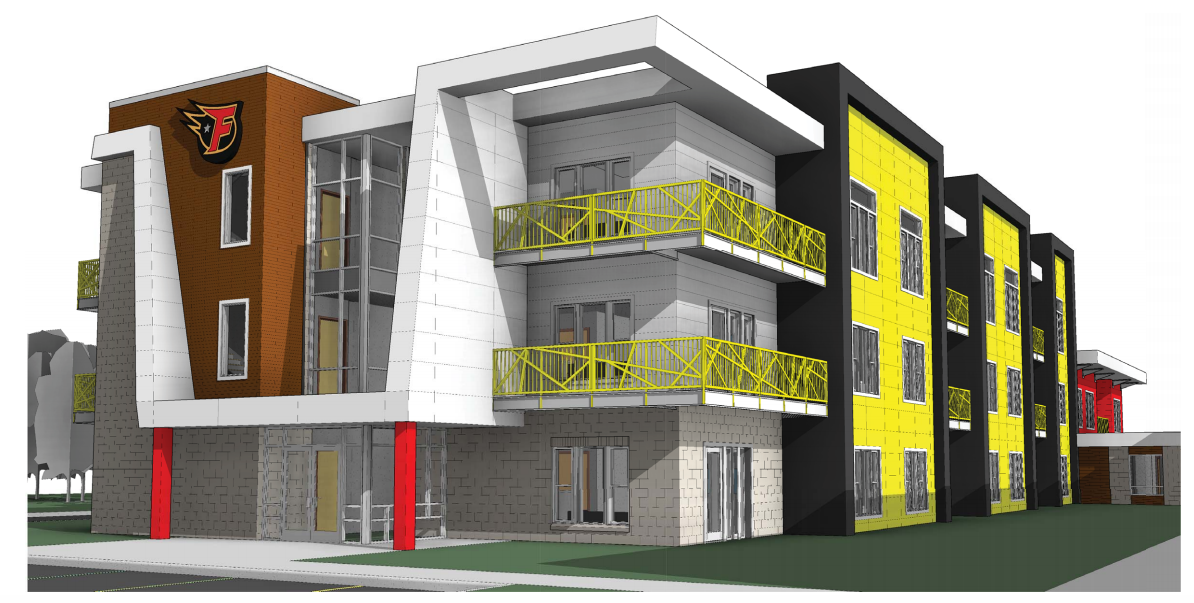 One year later, the company says it has invested $5.1 million into the facility and has another $600,000 worth of construction ongoing.
And the company isn't done yet. Plans for a three-story, 20-unit residential building have been filed with the city of Fishers for review. (See accompanying image for a rendering of the facility.)
The building, which would be located to the west of the ice arena and north of the existing parking lot, would also include a 3,000-square-foot locker room and offices for Indy Fuel coaches and players.
When the apartments are not being used by the team, the public may be allowed to rent them.
Construction is expected to start before the end of the year.
The ice arena, formerly known as The Forum at Fishers, was renamed Fuel Tank at Fishers after being purchased from Center Ice Development LLC for $1.85 million. As part of the purchase agreement, the city waived the $402,443 mortgage on the land in return for a commitment from Indiana Ice Arenas to invest at least $2 million in the facility. Center Ice Development owned the building, but it was on city land.
Shortly after purchasing the arena, Indy Fuel CEO Sean Hallett told IBJ that excess land on the property could be used for a housing complex in the future.
The arena offers public skating opportunities, skating lessons, summer camps and various programs and clubs.
Indiana Ice Arenas is requesting a change in zoning for the project, which requires review from the Fishers Plan Commission and approval from the Fishers City Council. The proposal is expected to be voted on at the council's August meeting.
Please enable JavaScript to view this content.