A developer's request for looser restrictions on fast-food restaurants in the Harmony development in Westfield could be withdrawn—in exchange for the city's pledge to allow a gas station in the community.
T.M. Crowley & Associates asked the city several months ago to allow a gas station and eliminate some of the restrictions on fast-food restaurants in the development, causing an uproar among residents in Harmony and neighboring subdivisions.
The development, which is a partnership between Estridge Homes and T.M. Crowley, has been marketed to residents as a village, and many homeowners have said they expected the commercial section to include businesses such as family-friendly restaurants, coffee shops and a hair salon.
The 275-acre neighborhood near West 146th Street and Ditch Road is expected to have 650 single-family homes, 275 apartments and 170,000 square feet of retail space. Plans call for the commercial section to be closest to the intersection.
Under the zoning approved by the Westfield City Council in 2013, restaurants with drive-thru windows are limited to one parcel at the southwest corner of 146th and Ditch, and they can't primarily serve burgers or fish. Gas stations are prohibited unless the developer receives special permission from the city.
At the Westfield Plan Commission meeting Monday night, the developer amended its request from allowing any type of restaurant with a drive-thru in the main commercial district on the northwest corner of 146th and Ditch and a GetGo gas station in the southwest corner parcel to only permitting the gas station. The new proposal would keep existing fast-food regulations in place.
T.M. Crowley is also seeking approval of design plans for a CVS Pharmacy in the commercial section, which is allowed under the existing zoning regulations and residents don't seem to be against.
Jon Dobosiewicz, land use professional with Nelson & Frankenberger, which is representing T.M. Crowley, said the developer would still like to allow uses for retailers such as Starbucks or Dunkin' Donuts, and would work with city planning staff to make sure that would be permissible under the existing zoning.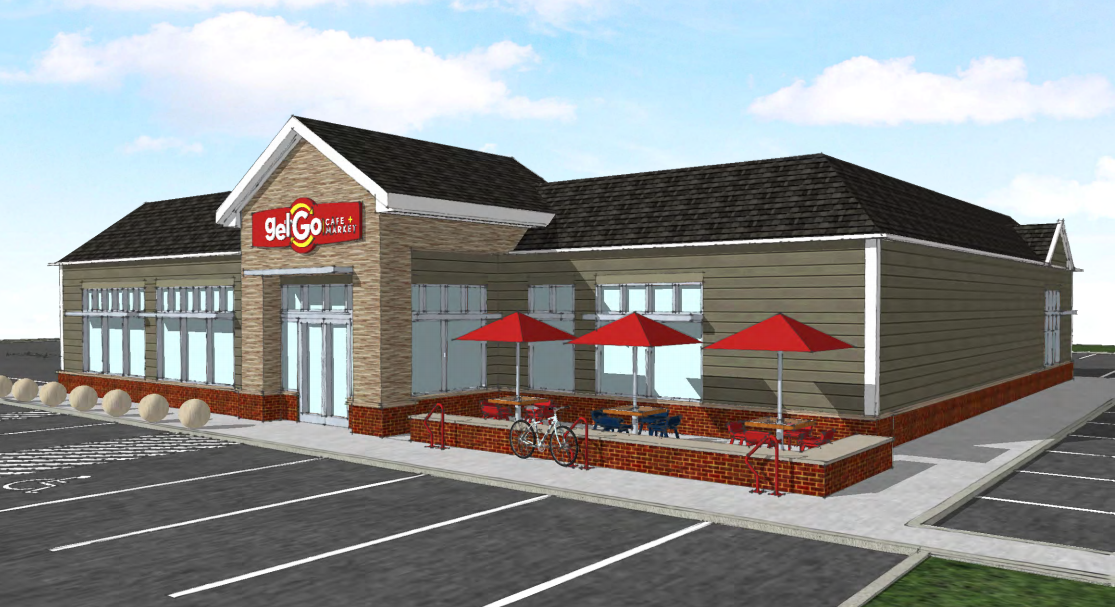 Dobosiewicz presented new renderings of the proposed GetGo gas station and CVS Pharmacy, which showed buildings intended to resemble residences in Harmony.
Some of the same residents — from Westfield and Carmel — who argued against the changes at a public meeting in June spoke again Monday night, and their positions hadn't changed. Many are still opposed to a gas station, arguing a better design wouldn't change their opinions because the station could still attract crime, pollution and noise.
"Whatever it looks like is like rearranging deck chairs on the Titanic," nearby Carmel resident Marc Goldstein said.
But some have shifted their views.
Harmony resident Mark Schaaf said, speaking on behalf of several residents, they aren't necessarily happy with the idea of a gas station, but they won't actively challenge it if they can have a voice in the design standards.
"We believe it's time to compromise," Schaaf said.
The Westfield Plan Commission did not vote on the proposal Monday night and is expected to discuss the issue again at its first meeting in September.
Please enable JavaScript to view this content.