Langton's Pub & Grille in Carmel's City Center has permanently closed after about a year of operations, opening space for a neighbor to expand.
Dublin, Ohio-based CLB Restaurants decided to close its only Langton's location after sales failed to meet expectations, according to Rob Hoersdig, vice president and director of operations.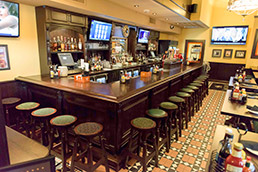 "Langton's never achieved the financial success we needed it to have," Hoersdig said.
The restaurant (see accompanying photo), located in City Center on the southwest corner of 126th Street and Rangeline Road, closed Monday.
Hoersdig said the vacant space will become part of the company's adjacent restaurant, Matt the Miller's Tavern—a brand that has been much more successful for the company. 
The expanded first floor dining area will be used for private parties and events, accommodating seating for 70 people and featuring its own full-service bar. When the space is not reserved, it will be used for additional restaurant capacity.
The second floor of the former Langton's will be transformed into Matt's Wine Bar, which will have some similarities to CLB Restaurants' Tucci's, in Dublin, Ohio.
Wines that typically sell for $90 to $150 by the bottle will be available in small pours or by the glass, and a limited menu of cheese boards and small plates is expected to be offered.
Hoersdig said Matt the Miller's, which has three locations in Ohio, has typically been focused more on craft beer, but wine sales in Carmel have significantly increased this year, which prompted the wine bar idea.
"It's been very interesting to see the climb in wine sales," Hoersdig said. "We know taking it to another level is certainly going to make these folks happy."
If the wine bar concept is successful, Hoersdig said, it could be expanded to the other Matt the Miller's restaurants in Ohio. The Carmel location of Matt the Miller's is the only one in the state.
About 170 seats are available inside Matt the Miller's, and the expansion will add 70 seats in the first floor dining room and 50 in the upstairs wine bar. 
The renovation should be complete by mid-October.
All gift cards and coupon offers from Langton's will be honored at Matt the Miller's.
Please enable JavaScript to view this content.