Another mixed-use real estate development is being proposed for the area near Spring Mill Road and 161st Street in Westfield.
Quent Partners LLC is requesting a rezone of about 18 acres on the southwest corner of the intersection to allow for a planned-unit development called the Depot at Spring Mill Station that would include a bank, multiple retail and office buildings, a grocery store and a standalone restaurant.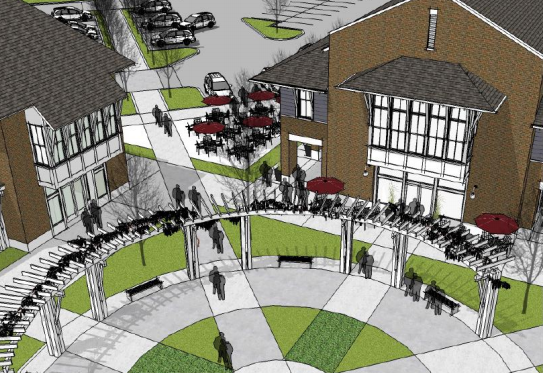 According to documents filed with the city, the northeast corner of the property would include a 24,000-square-foot retail and office building and a 15,000-square-foot retail building with a plaza in between the structures.
The 3,750-square-foot bank would border 161st Street, and the 29,000-square-foot grocery would be to the south of the bank.
The 2,500-square-foot restaurant and two 5,000-square-foot mixed use/office buildings would border Spring Mill Road on the southern half of the development. Two 25,000-square-foot office buildings would be built to the west of those buildings.
The proposal also suggests an alternative layout with 1.5 acres for a fire station on the southeast corner of the property, which would eliminate the two 5,000-square-foot mixed use buildings.
A variety of uses are proposed for the property, including daycare centers, health and fitness centers, medical offices, restaurants (sit-down, specialty, take-out and deli style), micro-breweries and hardware stores. Drive-through windows would only be permitted with a drug store, bank and/or coffee shop.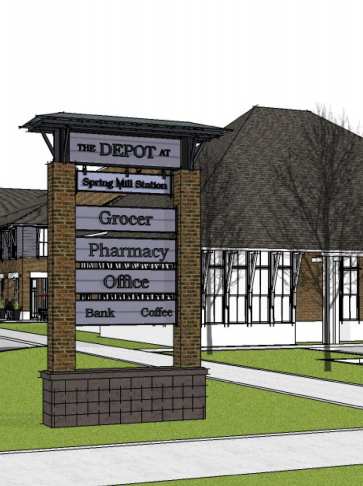 The maximum building height would be 45 feet.
The suggested design would incorporate a mix of brick, exposed trusses, covered porches and walkways, large windows, broad overhangs, stamped concrete paths and textured pedestrian crossings, according to the plan.
The proposal is one of several developments in the works for the area.
On the southeast corner, Cooperstown Partners LLC is leading a 7.65-acre project that is expected to include a 12,900-square-foot CVS Pharmacy, 9,800-square-foot medical office, a 10,150-square-foot retail building, 1.3-acre common area and walking paths around the property.
IU Health Physicians plans to occupy 5,000 square feet in the medical office building.
Directly to the west is where Westfield Residential Investors LLC and EdgeRock Development have proposed constructing a 290-unit apartment complex with 15 multistory buildings surrounding a clubhouse on the property.
The community, dubbed Spring Mill Station, also would include a fitness center, resort-style pool, business center, grilling station, dog park and trail around the perimeter of the 20-acre property.
The Westfield City Council approved the zoning for the apartment complex in August 2015.
The council could vote on the zoning for the Depot at Spring Mill Station in November.
Please enable JavaScript to view this content.