Electric car-sharing service BlueIndy is considering an expansion into the northern suburbs.
Carmel Mayor Jim Brainard told Carmel City Council members during budget hearings last week that BlueIndy had received permission from its France-based parent company, Bollore Group, to scout sites throughout the city.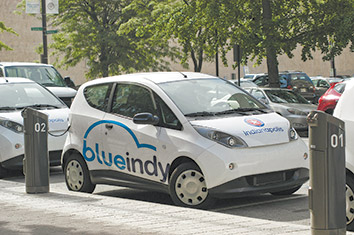 The program is a point-to-point vehicle service, with users paying a fee to drive the cars between popular destinations and neighborhoods.
BlueIndy has more than 240 vehicles in service and 80 stations available throughout Indianapolis after launching a year ago. Another 25 stations are under construction, according to BlueIndy's website. Currently, stations are only located as far north as Broad Ripple.
Brainard told IBJ he's unsure how many stations would be installed, but he expects them to be located in the higher density and frequently visited areas, like the Arts & Design District and Midtown.
"I'm excited about the fact that they want to expand," Brainard said. "A lot of couples may have one car instead of two… this would help fill in the gaps."
He said city staff is working with the company to determine the best locations and is considering the impact the service can have on businesses when prime parking spots are removed for the charging stations.
"We want to do it in a way that has a positive impact, not a negative impact," Brainard said. "We want to be very careful with where those sites are located."
BlueIndy marketing manager Lance Boehmer declined to say whether the company was specifically looking at Carmel.
"We are looking at sites all around the Indianapolis region," Boehmer said. "We're focused on building here in Indianapolis before we build anywhere else."
Please enable JavaScript to view this content.