State Road 37 could have two intersections under construction in 2019.
The $124 million project that was announced in December would transform the state highway through Fishers and Noblesville into a free-flowing parkway with raised roundabout interchanges from 126th to 146th streets.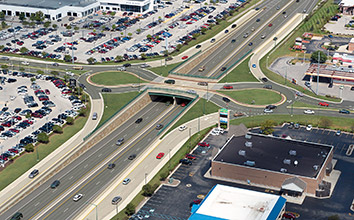 Project managers and contractors shared the possible project timeline with about 50 residents at a public meeting in Wednesday night in Fishers.
Troy Woodruff, director of operations for RQAW Consulting Engineers & Architects and former INDOT chief of staff, said the plan is to construct four bridges, with one each at 126th, 131st, 141st and 146th streets, and a right-in, right-out intersection at 135th Street.
The interchanges would be constructed two at a time starting in 2019, but the pairings have not been finalized yet. The second set of interchanges would be under construction in 2020, under the current timeline.
According to the presentation Wednesday night, the pairing options include 141st and 126th streets, 146th and 131st streets and 141st and 131st streets.
The roundabouts would be at grade level, with north and south traffic flowing under the intersections, similar to Keystone Parkway in Carmel.
SR 37 would remain two lanes in both directions at all times.
The city of Fishers, which agreed to take control of the corridor from INDOT during design and construction, hired RQAW to lead an outreach team to help residents and business owners afected by the project. Woodruff has been the point person on the project.
Since announcing the project and hiring RQAW, more than 200 businesses have been contacted and more than 100 homeowners have been reached.
Woodruff said about 80 businesses attended the two meetings that were geared toward commercial and retail concerns, and about 50 residents attended the last meeting for homeowners.
Woodruff said the purpose of the meetings has been to hear concerns and mitigate potential issues.
"We're never going to promise you there will be no pain during this project," Woodruff said. "There will be some inconveniences."
Please enable JavaScript to view this content.