Own a dog or a cat? Two new pet boarding and care facilities are slated for Fishers.
Fort Wayne-based 4 Paws Lodge LLC and Horizon Investors LLC plan to open 4 Paws Lodge at 11787 E. 131st St. (see first rendering), where the private Pierson Bark Park is located on a 6.82-acre property. The existing building on the property would remain, according to site documents filed with the city.
Horizon Investors acquired the property from Heather Pierson last year, according to public documents. As of March 1, the property had an assessed value of $282,000. Pierson's Bark Park opened in 2005.
The new 31,400-square-foot building for 4 Paws Lodge would be used for overnight lodging, pet daycare, a spa, animal training classes, staff offices and a gift shop.
Fifteen cat suites with an open play area and 150 dog suites will be available for overnight stays. Indoor and outdoor play areas will be used for the daycare services. Professional pet grooming and spa services, like massage therapy and specialized coat treatments, will be offered, along with gourmet meal options.
The Fishers City Council approved plans for 4 Paws Lodge earlier this year. It was not immediately clear when the facility would open.
The Pet Palace chain recently filed plans for a 15,172-square-foot building (see second rendering) on a 1-acre site at 11696 Fishers Corner Blvd., directly east of Target and near downtown.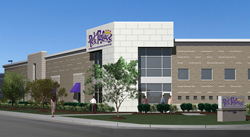 Boarding for dogs and cats will be offered, along with daycare services and grooming. An outdoor play area will also be constructed with the building.
Pet Palace has one other location in Indianapolis, at 9502 Angola Court, near 96th Street and Michigan Road. Four other locations are in Ohio.
The Fishers Pet Palace project still requires approval from city officials. Representatives for the project did not immediately respond to IBJ's request for more details.
Pet Palace and 4 Paws Lodge would be about five miles apart from each other.
Please enable JavaScript to view this content.