As a strategy to collect from tax increment financing revenue over the next 20 years, the Carmel Redevelopment Commission is hoping to buy the 1.68-acre property designated for the Monon & Main development.
The $20 million mixed-use project being pursued by Chuck Lazzara and his son, Anthony, is expected to include a three-story building anchored by an upscale restaurant, three-story office and retail building, seven townhomes, a parking garage and a park along the Monon Trail.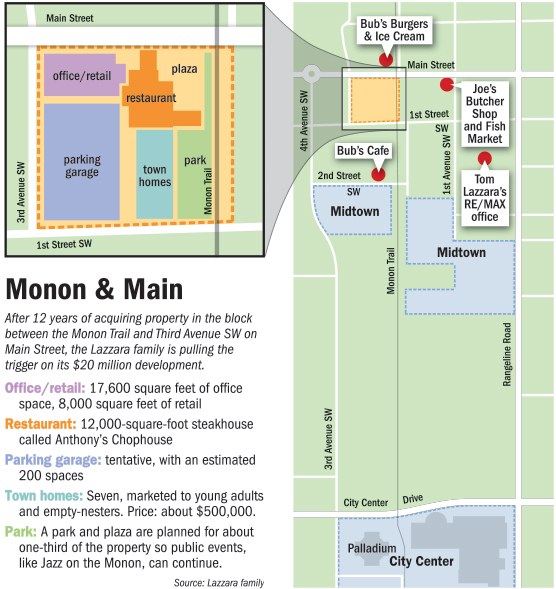 It would be located on the block between the Monon Trail and Third Avenue Southwest on Main Street. The CRC plans to purchase the block from the Lazzara family for $1.4 million.
The figure was the average of two appraisals for two portions of the property (see map) where a parking garage is expected to be constructed and for the expanded right-of-way needed for the park along the Monon Trail.
CRC Executive Director Corrie Meyer said they are acquiring the entire block, rather than just the areas needed for public use, because it will reset the assessed value to zero, which would then provide more incremental tax revenue in the TIF district.
Meyer estimated that an additional $33,436 could be collected annually, for a total of $668,720 over 20 years.
Once building construction is slated to begin, the CRC will transfer those parts of the property back to the Lazzara family. The property for the parking garage and expanded Monon Trail will remain under CRC control.
The deal requires approval from the Carmel City Council, which initially considered the request last week. The council's land use committee is expected to discussion the agreement Tuesday. It would still need full council approval at the Dec. 19 meeting.
Please enable JavaScript to view this content.