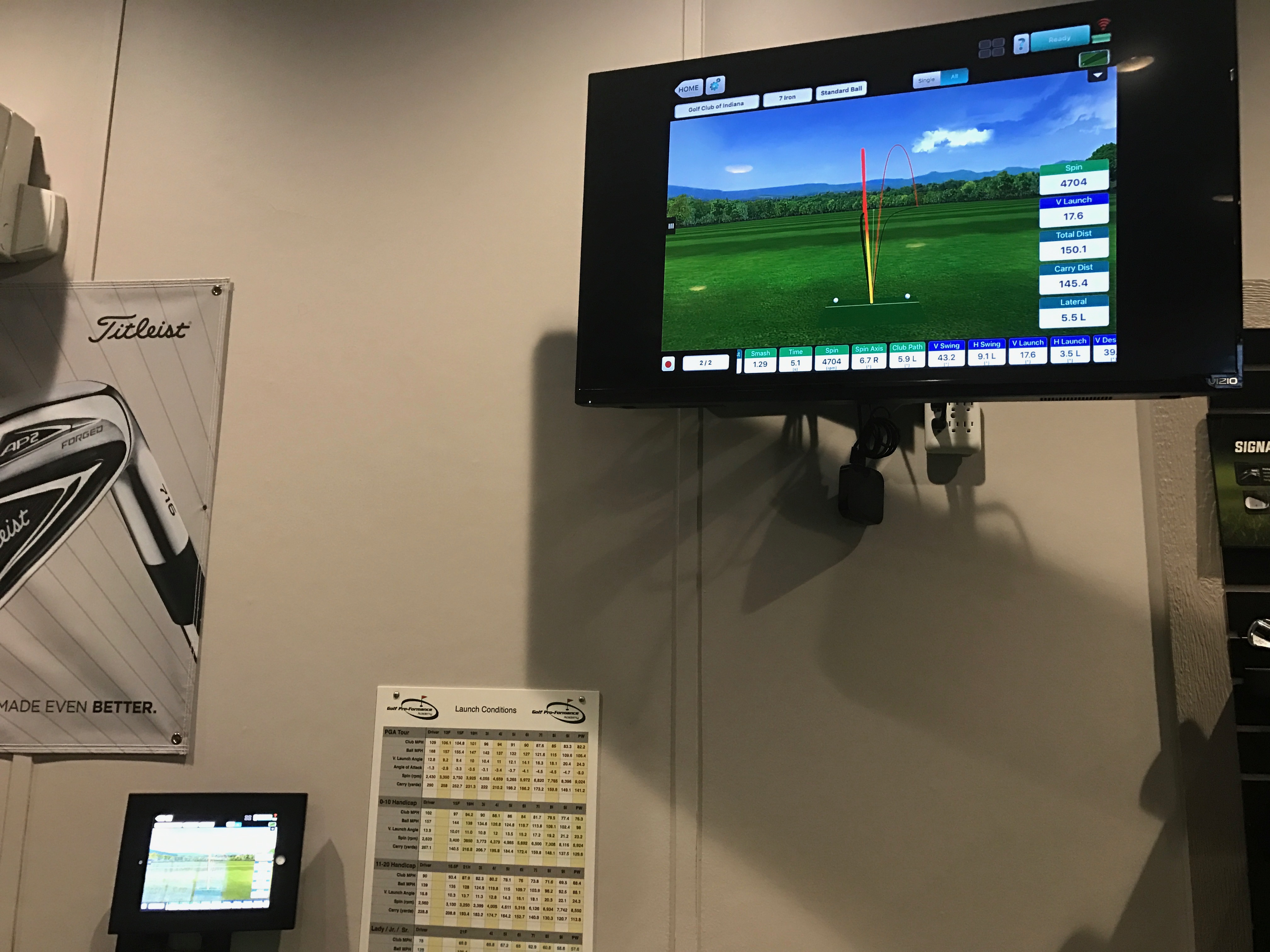 The Golf Club of Indiana wants players to improve year round.
It also wants customers at its 175-acre property to the southwest of Whitestown Parkway and Indianapolis Road year round—and a recently completed $1 million expansion could make that happen.
A new 6,000-square-foot facility, known as the Golf Pro-Formance Academy, offers 10 indoor heated hitting bays, a small putting green, meeting areas, a lounge, full bar, 10 flat screen TVs and free Wi-Fi.
Each bay is equipped with ball tracking technology from FlightScope, an Orlando-based company that provides software using Doppler radar that collects a variety of details, including ball speed, spin and distance, for golfers. Once a ball is hit, the information pops up on an iPad screen and TV screen inside the bay.
Jeff Rubenstein, director of golf at the Golf Club of Indiana, said the public facility is very similar to Topgolf, which is expected to open this fall in Fishers, but he doesn't see it as competition.
"I think they're going to bring people to golf that have never golfed before, which is a good thing," Rubenstein said.
He said Topgolf is more of an entertainment venue, while the Golf Pro-Formance Academy is geared toward serious golfers looking to improve.
Because of Indiana weather, Rubenstein said, players usually hit their last rounds of the year in October and return in April.
"So you have a six month layoff and our skills diminish," Rubenstein said.
To extend the golf season, Rubenstein started researching and visiting other indoor golf academies, including a couple in Chicago and one in Fort Wayne, and discovered that most tend to be smaller, not open to the public or use less technology.
He said he doesn't think more technology-equipped indoor bays exist because of the price tag. He acknowledged that at $1 million, the facility is a significant investment.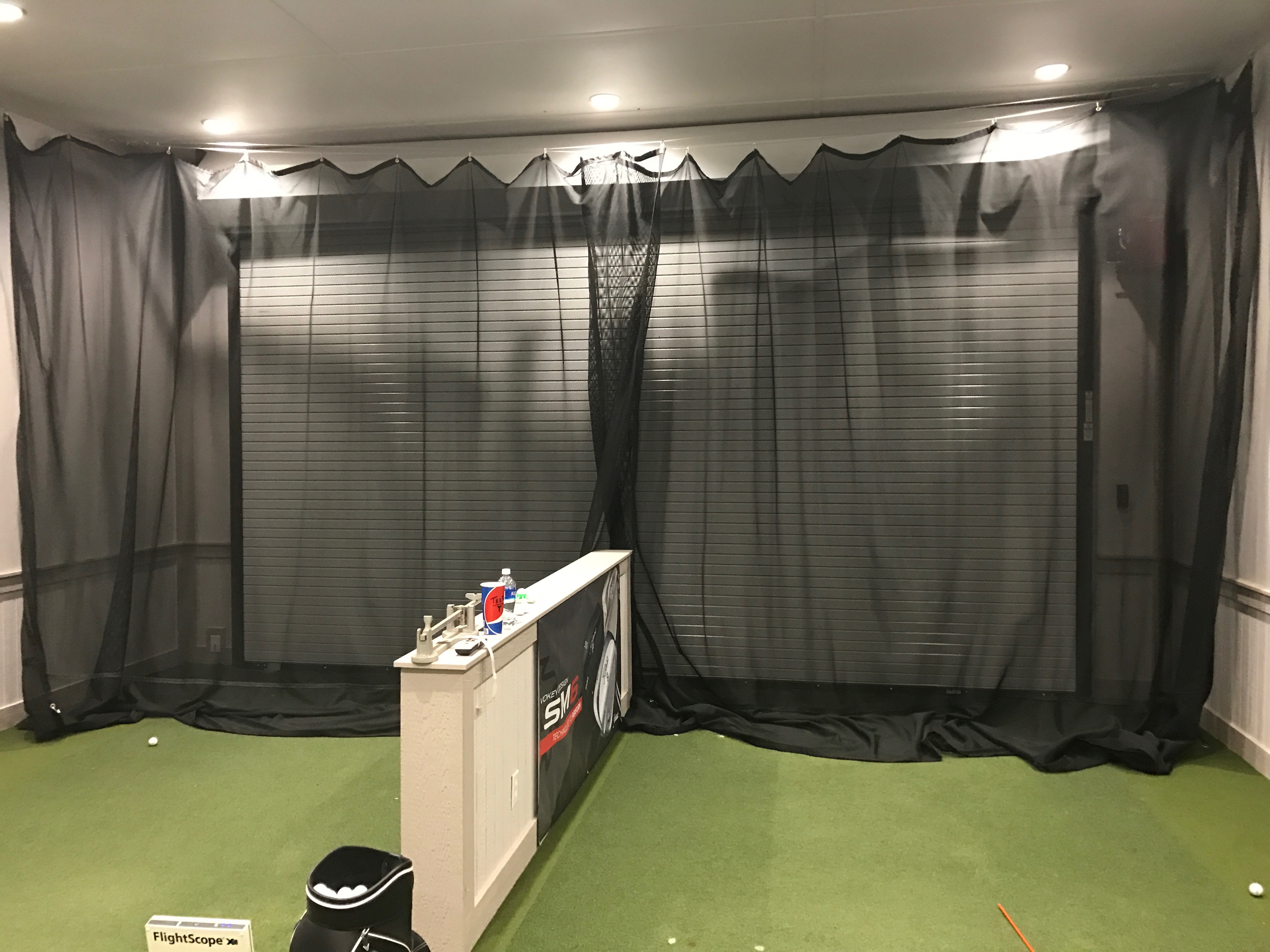 "When it comes to the price tag of it, that's where a lot of people kind of balk," Rubenstein said. "In our industry, I don't think a lot of people are spending money. … Golf, unfortunately, is a struggling industry."
The Golf Club of Indiana spent about $700,000 to construct the new facility and $300,000 to equip it.
Each golfer using FlightScope can create a profile to track his or her progress, and the program provides feedback on how to improve.
The bays are divided into five rooms with glass windows and doors facing the inside of the building. Two garage doors are on the opposite wall in each room that can be opened or closed for each bay.
One of the bays will be used by Tony Day, director of instruction at the golf course, for lessons and club fittings. Day recently won Indiana's PGA Teacher of the Year award.
The Golf Pro-Formance Academy opened Oct. 31, but Rubenstein said it had a slow November due to the warm weather, which kept golfers outside on the course. The academy is open seven days a week and costs $20 on weekdays and $25 on weekends for 45 minutes in a bay.
While he doesn't expect it to be like TopGolf, Rubenstein does want customers to hang out at the facility. Bar stools surround the putting green, TVs are in every room and some nearby restaurants, including Buffalo Wild Wings and Pie Five have agreed to deliver there. When the temperatures rise again, there will be an outdoor patio next to the building and small outdoor hitting area adjacent to it.
"We're really trying to promote the experience people can have," Rubenstein said.
Please enable JavaScript to view this content.