As promised, the city of Carmel is pressing ahead on the 96th Street and Keystone Parkway redesign project.
The highly congested intersection will be upgraded so Keystone Parkway is elevated over 96th Street with roundabout controlled ramps (see rendering below), similar to other intersections along the corridor.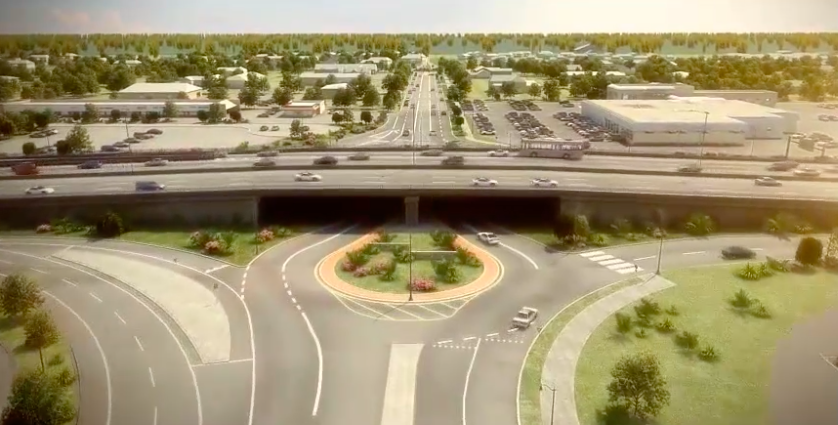 The $43 million project also includes replacing traffic lights with roundabouts at five other intersections on 96th Street—Delegates Row, Gray Road, Hazel Dell Parkway, Priority Way and Haverstick Road.
Funding for the project is expected to come from a several sources—$8.5 million in federal transportation funds, $2 million from Hamilton County and $1.9 million from the federal Congestion Mitigation & Air Quality Improvement Program.
The remaining $30.6 million will come from already-approved bonds from the city.
An estimated average of 85,000 vehicles pass through the intersection every day, according to the city's traffic studies, and that is expected to "increase dramatically" during the next five to 10 years.
The two-year project is scheduled to start in the summer at Delegates Row and Gray roads. Work on the roundabouts at Priority Way and Hazel Dell will begin in September. All four should be completed by the end of the year.
Preliminary work on the 96th Street and Keystone interchange is slated to begin this year, but most of the work will occur in 2018. The 96th Street and Haverstick Road roundabout would also be completed in 2018.
The city said Wednesday that it has spent months reaching out to business owners and community members to discuss the upcoming construction, and more meetings are being scheduled. The area is filled with car dealerships, gas stations, banks and restaurants. 
Upgrading the intersection of 96th Street and Keystone has been on the city's priority list for years. It applied in 2010 and 2015 for a highly competitive Transportation Investment Generating Economic Recovery, or TIGER, grant from the U.S. Department of Transportation, but was denied both times.
Carmel Mayor Jim Brainard told IBJ after being denied funding in fall 2015 that the city would still pursue the project.
The intersection is the only one along the Keystone corridor in Carmel that hasn't been upgraded to an elevated roundabout. Carmel has invested $112 million along the busy roadway to remove stoplights and install roundabouts over seven intersections within a five-mile stretch.
Please enable JavaScript to view this content.