Indiana Blood Center in Fishers will relocate this spring.
The blood center currently is in the Fishers Station development on the northeast corner of Allisonville Road and 116th Street, where Kite Realty Group Trust plans to redesign the building's configuration.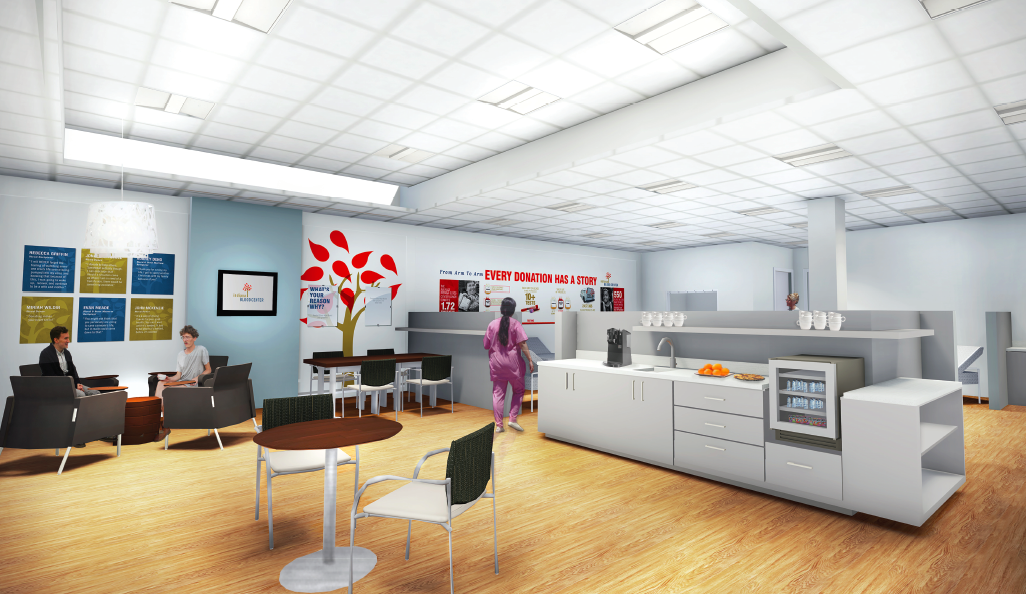 The redevelopment plans impact the blood donation center's space, which prompted the  relocation.
Andrea Fagan, director of public relations and marketing, said the new location (see rendering) will be at 11069 Allisonville Road within the Village Square retail center.
The 2,065-square-foot donation clinic is expected to open at the end of March or beginning of April. It's a bit smaller than the current, 2,300-square-foot space.
"It has been an excellent opportunity for us, frankly, because we were able to design from scratch a new footprint for the donor center with some amenities and layout intended to enhance the experience donors have in our centers," Fagan said in an email.
In other northern suburb news:
• Duluth Trading Co. will open its Noblesville store at 13890 Cabela Parkway on March 2. It will be the clothing store's first location in Indiana. The grand opening event will include demonstrations from lumberjacks at 12 p.m. and 3 p.m.
• Nearby in Noblesville's Corporate Campus, BJ's Restaurant & Brewhouse opened earlier this month at 13003 Campus Parkway.
• Starbucks plans to open a new location at 1420 W. Main St. in Carmel. The coffee giant is also expected to open a shop in a retail center at 12919 Campus Parkway in Noblesville.
• In the same development at 12919 Campus Parkway, Starbucks will be joined by American Mattress. The mattress store already has locations in Carmel, Fishers and Noblesville.
• Jack's Donuts is now serving customers in Westfield. The donut shop opened at 17423 Carey Road, Suite B, earlier this month. Jack's Donuts has nine locations in central Indiana, including one in Carmel and one in Fishers.
• A prom dress retailer has opened at 14560 River Road, Suite 130, in Carmel. RaeLynn's Boutique originally opened in November 2008 and expanded to its current location at 455 Greenwood Park South Drive in Greenwood in 2013. The Carmel store is the second location.
• Domino's has relocated its Carmel store from 841 S. Rangeline Road to 1441 S. Guilford Road. The store has a grand opening scheduled for Monday and is offering free pizza gift certificates to the first 50 carryout customers who spend $10 or more.
• Indiana Members Credit Union plans to open a new branch at 13220 Olio Road in Fishers, just south of Southeastern Parkway.
• Continuing the bank branch theme: Star Financial Bank has filed plans for a new location at 140 E. Carmel Drive in Carmel.
• Asian fusion restaurant Asian Kitchen & Sushi Bar is now open at 4000 W. 106th St. in Carmel.
• Younique Culture has opened a second location at 216 W. Main St. in Carmel. The other location for the men's and women's retailer is in Plainfield.
• Rainbow Station, which offers a nursery school, preschool, after-school recreation and a program for parents to leave mildly ill children with a pediatric nurse, recently opened a 16,000-square-foot facility at 10408 Olio Road in Fishers.
• Big Apple Bagel has filed plans for a new location at 11675 Olio Road in Fishers. The store will be in space formerly occupied by Orange Leaf Frozen Yogurt.
Closings:
• Gandolfo's New York Deli has closed its Whitestown location, which was at 6685 E. State Road 334 in the same complex as Buffalo Wild Wings and Lowe's Home Improvement. The only remaining location in the state is at 2796 E. 146th St.
Please enable JavaScript to view this content.