Tom Wood Automotive Group's proposed Toyota dealership near Interstate 65 and Whitestown Parkway will be two stories tall and more than 45,000 square feet, according to its latest plans.
The company recently filed plans with the town of Zionsville for the dealership that will be near the southeast corner of the highly visible intersection.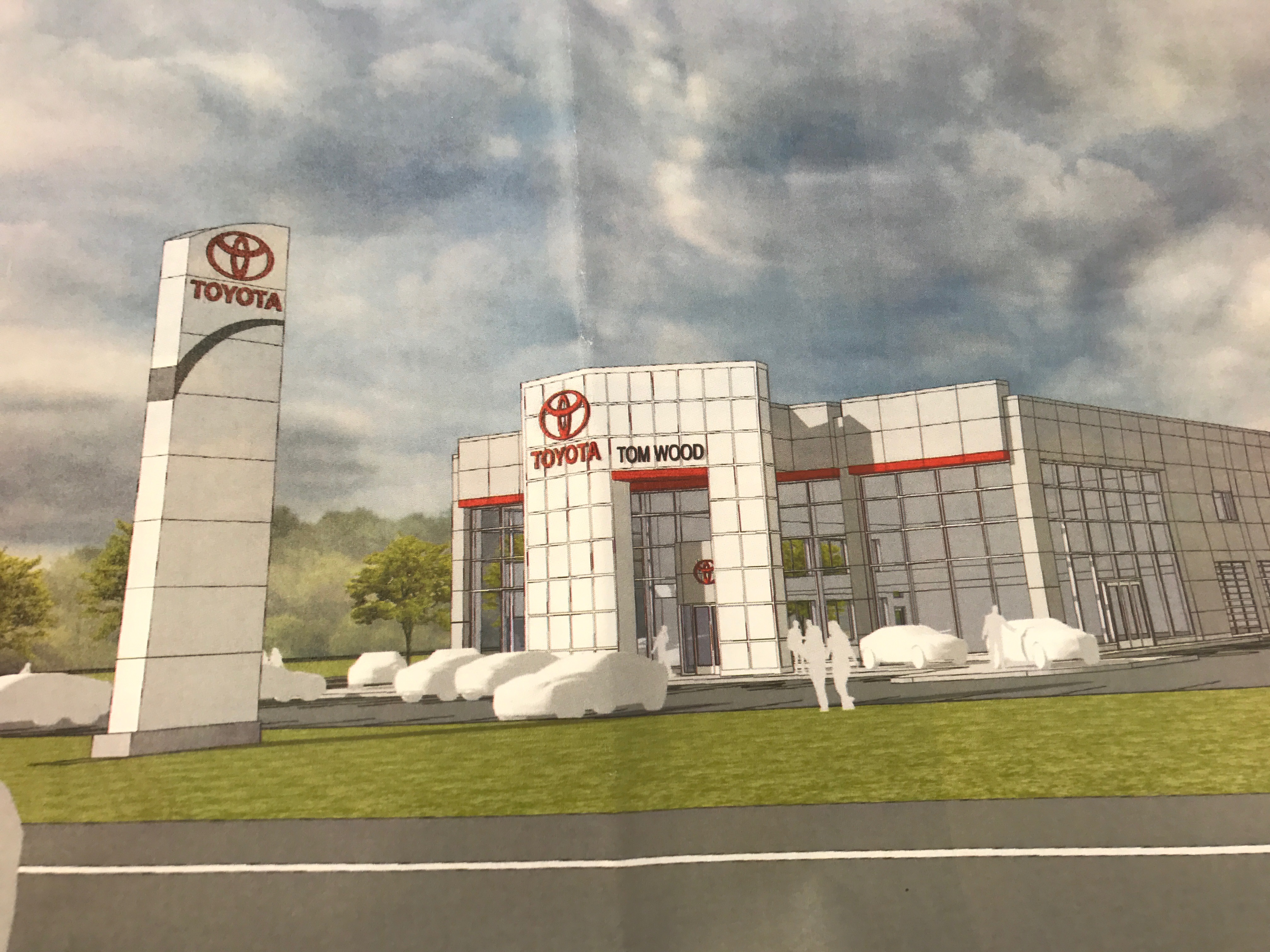 Tom Wood purchased a 10-acre parcel to the south of Cracker Barrel Old Country Store earlier this year for $3.6 million. The land is adjacent to a 15-acre parcel Tom Wood acquired for $1.8 million in 2013.
The new Toyota dealership will replace Tom Wood's existing one in Indianapolis at 4202 Lafayette Road near Lafayette Square Mall and West 38th Street, where it was built in 1978.
According to the plans, the new location will feature a showroom, children's area, lounge, offices and a service center with a car wash on the 35,000-square-foot first floor. The upper level will mostly be open to the first floor, but will have nearly 10,000 square feet for additional offices and an employee lounge.
Although the location at 6408 Crane Drive is just to the south of Duke Realty Corp.'s massive Anson real estate development in Whitestown, the dealership is within Zionsville's boundaries. The property is in Eagle Township, which Zionsville merged with in 2010.
In February, when Tom Wood execs confirmed to IBJ that it would be relocating its Toyota dealership, the cost and the timeline of the project were not disclosed.
Chief Operating Officer Roger Keller did not respond to IBJ's request for comment Wednesday morning.
Keller described the Zionsville market as "exploding," when he spoke to IBJ last month and said that was a primary reason for the move.
Anson has seen plenty of retail growth in the past few years, and more is expected.
Midland Atlantic Development Co. LLC recently filed plans to build four retail buildings on a 6.4-acre parcel near the northeast corner of Whitestown Parkway and Perry Worth Road. That project could cost $13 million to $15 million and bring more restaurants and retail to the development.
Housing in the area is also growing significantly. From 2011 to 2016, the number of single-family housing permits filed in Whitestown increased by 73 percent, with 222 permits filed last year, according to the Builders Association of Greater Indianapolis.
Tom Wood Toyota would be the first car dealership in that area. The closest competitors include a cluster of dealerships south of Zionsville along U.S. 421 near 96th Street and a Bentley dealership in downtown Zionsville.
Tom Wood Auto Group sells 14 car brands and has 12 dealerships in the Indianapolis region.
The Zionsville Plan Commission is slated to discuss the proposal at its meeting March 20.
Please enable JavaScript to view this content.