A Texas-based medical group wants to open a 24-hour boutique emergency care facility in Fishers.
Houston-based Nutex Health Inc. has filed plans for a $10 million medical center (see image below) that would be built on a 2-acre property near the southeast corner of 116th Street and Hoosier Road. The 18,000-square-foot freestanding facility would be directly west of Fresh Thyme Farmers Market.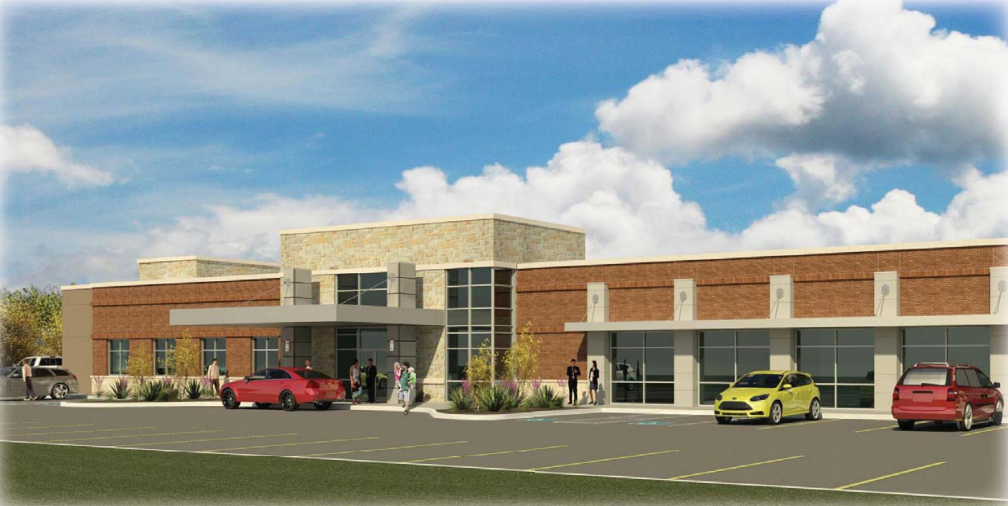 Nutex Health has 15 locations in Texas, but shows plans on its website to expand to 17 other states in addition to Indiana. It is requesting a zoning amendment in Fishers to allow business operations for medical service facility between the hours of midnight and 6 a.m. Existing zoning prohibits business operations during that time period.
The proposal is expected to be introduced at the Fishers City Council meeting Monday.
"Patients will enjoy the ambience of a high-end facility, followed with evaluation by an experienced emergency physician within minutes of entry to our hospital," Nutex Health CEO Tom Vo said in a written statement. "All testing is done quickly, without the delays typical of traditional, hospital-based emergency departments."
The ER center would have equipment for CT scans, x-rays and ultra sounds, and would feature a full clinical laboratory. It would operate as a standard emergency room, but could also serve as an option for patients after traditional doctor offices or urgent-care centers have closed.
The facility would be able to treat patients with issues like fever, acute bronchitis, dehydration, rash or other skin problems, abdominal pain, shortness of breath and back pain. But it would not be able to provide care for severe injuries that would require surgery or intensive care. Trauma patients would be stabilized and transferred to a nearby hospital.
"Our ER and medical services facility is designed to take the anxiety out of the emergency-care experience," Vo said. "Utilizing experienced designers, our build-outs incorporate textured surfaces and materials, soothing colors, and calming artwork, which all synergistically create an ambience that serves to alleviate the pain and anxiety of medical emergencies."
The center would have in-house physicians, registered nurses, radiology technicians, clinical technicians and other support staff.
After being introduced to the City Council on Monday, the zoning request is expected to be discussed by the Fishers Plan Commission on May 3 and return to the City Council for final consideration May 15.
If approved, construction could begin this year.
Please enable JavaScript to view this content.