Caplinger's Fresh Catch Seafood Market is expanding into Boone County.
Until a few weeks ago, Andrew Caplinger was not looking to grow the two-location seafood business he owns with his dad and wife.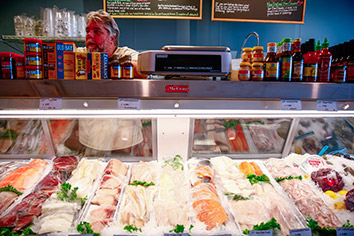 He recently agreed to visit an available space in Whitestown when Midland Atlantic Properties, which is the landlord for the original Caplinger's Fresh Catch Seafood Market at 7460 N. Shadeland Ave., called and suggested he consider it.
He hadn't even bothered to tell his dad, Nick Caplinger, or wife, Courtney Caplinger, about the trip because he didn't think it would result in anything.
"I went and looked, and the wheels started turning," Caplinger told IBJ. "It's almost turnkey. … It was going to require very little investment on our part."
The space at 6685 E. State Road 334, which is in the same complex as Buffalo Wild Wings and Lowe's Home Improvement, was formerly occupied Gandolfo's New York Deli.
The deli closed earlier this year. After the three fish-market owners discussed the decision for about two weeks, they decided to open Caplinger's Fresh Catch at the location.
Caplinger said it would be similar to the store on Shadeland Avenue., which opened in late 2013 and is believed to offer the largest selection of fresh fish in the Indianapolis area. I also sells cooked-to-order seafood for lunch and dinner.
The menu in Whitestown might be slightly reduced to streamline orders, but will still have a wide variety.
A Noblesville location, known as Caplinger's Fresh Catch & Cuts, opened at 15009 Gray Road about six months ago. In addition to seafood, that location offers a variety of meats, including beef, pork and lamb.
Caplinger said he expects the Whitestown location to open by mid-May.
"I still can't hardly believe it," Caplinger said on the phone as he drove to Cincinnati to pick up more equipment for the new store. "It's gonna be fun. It should be fantastic food."
Please enable JavaScript to view this content.