A Zionsville Town Council member is resigning from his position.
Jeff Papa, who served on the council from 2010 to 2015, and again from 2016 until present, sent a letter to Mayor Tim Haak, the town council and town employees announcing his decision Monday.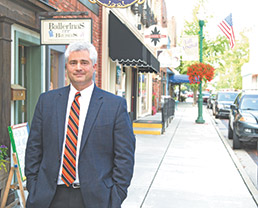 Papa recently accepted a job with Indianapolis law firm Barnes & Thornburg LLP, which provides legal counsel to Zionsville.
"In order to avoid any appearance of impropriety and/or any actual conflicts, I hereby resign from the office of town council member, effective as of 11:59 p.m. on June 30, 2017," Papa wrote in the letter.
Papa had been serving as chief of staff and chief legal counsel for the Indiana Senate—a role he had for more than nine years. He previously practiced immigration law at Barnes & Thornburg, from 2001 to 2007, before leaving for the Senate position.
He returns to the law firm July 6.
Papa played an instrumental role in the reorganizations and mergers that Zionsville has gone through in recent years. The town merged with Eagle and Union townships in 2010 and won a legal battle against Whitestown in order to merge with Perry Township in 2015.
The reorganization with Perry Township allowed Zionsville to add the position of mayor without transitioning to a city, and Papa served as the town's first mayor from June 2015 to January 2016.
In 2015, voters elected Haak to be mayor and elected Papa back to the town council.
Papa also runs the not-for-profit Youth Enhancement and Training Initiative, which funds an orphanage in Nepal.
In 2015, IBJ featured Papa in its Interview Issue.
Please enable JavaScript to view this content.