Lebanon Mayor Matt Gentry wants to give new life to the city's old downtown.
He's watched other Indianapolis-area communities invest "tens of millions of dollars to build downtowns," and wants to take advantage of the existing one in Lebanon, he said.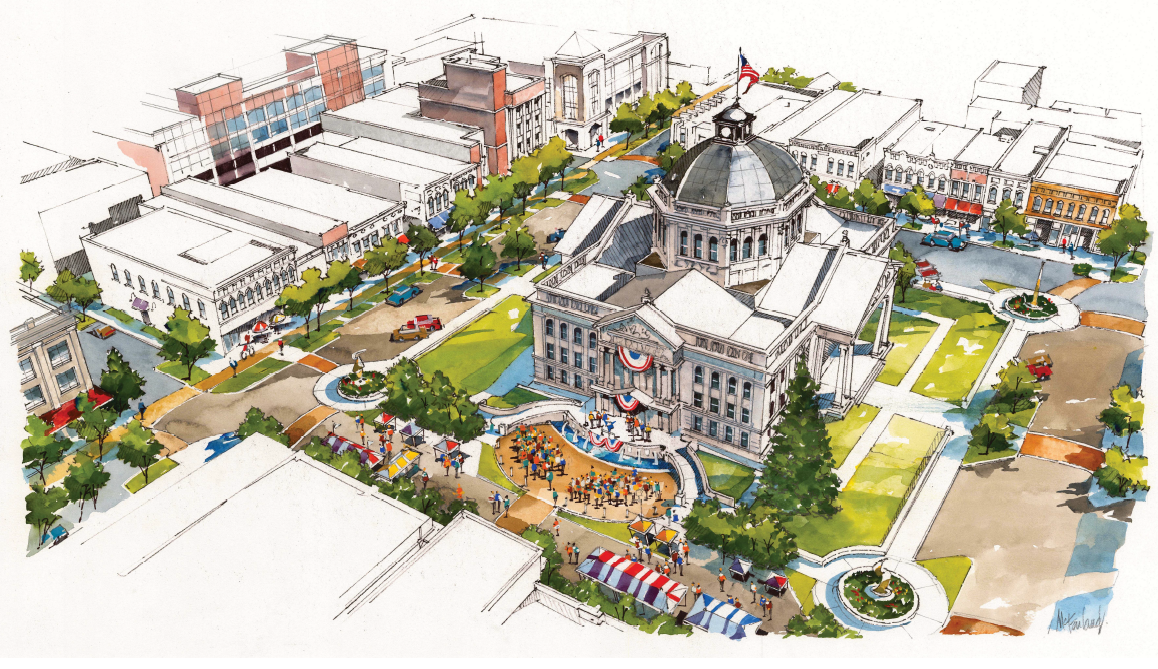 "Back in the 50's and 60's, the squares were the place to be," Gentry said.
He is proposing to spend more than $10 million to build a public plaza on the east side of the Boone County Courthouse square, extend the Big 4 Trail to downtown and construct a 200-space parking garage just off the square. (See layout image below.)
The plaza, which would include a water feature adjcent to the courthouse, would be used for events and as gathering space for the public. (See image above.)
The city has been working with Indianapolis-based Remenschneider Associates Inc. for months on the plan and had several public meetings earlier this year to gather feedback from residents.
"We're not just throwing darts here," Gentry said. "It's been a very strategic process."
The plaza and other downtown improvements, including paver streets and landscape work, could cost $5 million.
The parking garage, which would have about 100 spots reserved for county government employees during business hours, could cost $4.5 million. It would be located on county-owned property on the northeast corner of State Road 32 and State Road 39. Gentry said the parking structure would most likely be the first phase of the project to get started, and the project could be bid this summer. Once the garage is complete, freeing up parking around the square, the city would construct the plaza. About eight spots are expected to be removed for the plaza.
The 1.2-mile trail extension could cost between $1 million and $2 million. The 9-mile trail currently runs from Patterson Street in Lebanon north to Thorntown.
"It's a deliberate move," Gentry said. "We've seen lots of economic development that comes with trails."
Gentry said the city would use a bond backed by tax increment financing revenue to fund the projects, which still need approval from the Lebanon City Council.
"This is really part of our economic development strategy," Gentry said. "We want to be seen as a big small town."
Just having plans in place has piqued the interest of some businesses. Gentry said the trail extension was a big reason why Lafayette-based People's Brewing Co. made its expansion into Lebanon. The brewery is located on the south side of the courthouse square at 111 Main St.
On the north side of the square, a distillery and restaurant known as Cell Block 104 Restaurant and Bar opened last year at the former Boone County Jail building.
Gentry hopes to attract more restaurants, businesses and residential developments.
"We're already starting to see people that are very interested in Lebanon," Gentry said. 
Please enable JavaScript to view this content.