After years of sitting empty, the former Shapiro's Delicatessen building in City Center is expected to have a new tenant by next summer.
Old Spaghetti Factory plans to open in the 11,500-square-foot structure at 918 S. Rangeline Road by summer 2018. Shapiro's closed the City Center location in June 2013 after years of financial struggles, and the building has been empty ever since then.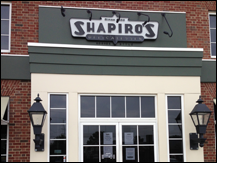 Pedcor Cos., which purchased the building from the Carmel Redevelopment Commission in fall 2014, confirmed Friday morning that it has reached a 10-year lease agreement with Old Spaghetti Factory.
The Portland, Oregon-based Italian restaurant chain's only current Indiana location is at 210 S. Meridian St. in downtown Indianapolis, where it opened in 1982. More than 40 other locations are spread throughout 12 other states.
Old Spaghetti Factory spokesman Ryan Durrett confirmed that the downtown Indianapolis location will remain open. He said on the West Coast, it's common for the company to have multiple locations in close proximity.
"We saw Carmel as a great opportunity to repeat that in Indiana," Durrett said.
Shapiro's broke ground on its Carmel restaurant in 2001, making it one of the first tenants to invest in the City Center development, which had barely started at the time and materialized much slower than expected.
In 2010, the Carmel Redevelopment Commission bought Shapiro's $2.5 million mortgage. The company then made payments to the CRC, but eventually fell behind and stopped paying property taxes. At the time, local officials suggested that the building had been too much space for Shapiro's, which ultimately led to its closure in 2013.
The restaurant company said closing was a "strategic decision" that would allow it to focus more on the downtown location at 808 S. Meridian St., which remains open.
After taking over ownership, the CRC put the former deli on the market for $2.1 million, then the average of two appraisals, and received two bids in fall 2013. But it wasn't until October 2014 that the CRC accepted an offer from Pedcor Investments LLC for $2.1 million, which included a $1 million payment and debt forgiveness of $1.1 million for phase one City Center construction.
Pedcor has been trying to lease the space since acquiring it, but according to its agreement with the CRC, the company had to spend the first six months of ownership targeting a food-related user.
After no offers came through, Pedcor was allowed to widen the search, but restaurants were still seen as a preferred use. Officials with the development company told IBJ in April 2016 that they were negotiating with a restaurant and hoped to finalize the deal soon.
Shapiro's, which has been owned and operated by the same family for more than 110 years, still operates its longtime restaurant at 808 S. Meridian St., in downtown Indianapolis. It has smaller locations at thethe Indianapolis International Airport and at the Fashion Mall at Keystone Crossing (called Twisted Traditions).
The owners have plans to open more locations in Cincinnati and other cities under licensing agreements.
Please enable JavaScript to view this content.