A Noblesville-based startup founded by a Noblesville teenager launched Thursday, offering pre-kindergarten and elementary school students an interactive way to consume traditional books.
The Storybook Factory aims to engage young readers at a time when video games and other screens are competing for children's attention.
"Everything is going digital now," 19-year-old CEO Bradford Wolf told IBJ. "If we can meet kids on the platform they're using most, we might have a chance at helping them become avid readers again."
Storybook Factory, which began as a classroom project in Noblesville High School's Innovations program, has evolved into a fully-funded education-technology startup.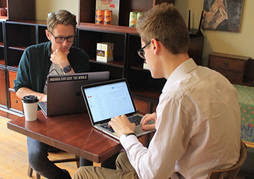 Storybook Factory CEO Bradford Wolf, left, and Chief Operating Officer Hunter Stone work much of the time at Noble Coffee & Tea Co. in Noblesville. (IBJ photo/Carley Lanich)
At thestorybookfactory.com, users can flip through digital storybooks page by page while interactive features can help them sound out and define difficult words. Voice-actor narration features allow children to follow along as books are read to them.
Wolf described Storybook Factory as a "Netflix for children's books" and said he hopes the website's interactive features can be used as educational tools.
"Books have so much value, especially at such a young age," Wolf said. "When I was a kid this was my childhood. All I did was read books. It helped me build who I am today, so we wanted to help bring back that same experience for kids."
The website works as a subscription-based service with 10 books currently available at no cost and an additional 20 books available to premium level subscribers for $9.99 a month.
Hunter Stone, chief operating officer of Storybook Factory and one of Wolf's former classmates, said he expects more books to become available on the website as The Storybook Factory builds relationships with more authors and publishers.
He also sees a future in expanding to middle-school and high-school-level reading.
"We've had a fun time building our business and taking our idea and turning it into something we can put in the hands of people," Stone said. "But our goal is to make something that helps people out."
Storybook Factory's launch comes as Stone and Wolf are in New York at BookExpo, an annual conference for publishers and authors. Wolf said he and Stone planned the trip after a few interested publishers asked to meet them there.
"Some of the biggest publishing names will be here and we want to introduce to them what we are doing," Wolf said in an email. "Our goal, really, is just to share with publishers how our service can actually be beneficial for them."
Data from media ratings company Nielsen presented Wednesday at BookExpo showed a four-year decline in book and magazine readership among youth, with increases in online gaming, YouTube viewership and gaming apps like Angry Birds.
Marisa Bluestone, communications director at the Association of American Publishers, said she hadn't seen any other platforms offering services like Storybook Factory.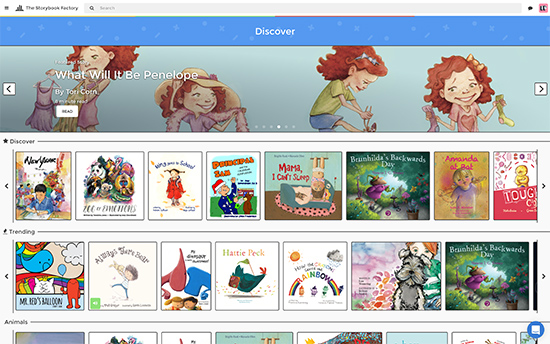 "The publishing industry is seeking young, diverse voices, so it sounds like something that's a fantastic opportunity," Bluestone said.
Wolf and Stone have already developed partnerships with a few publishing companies and self-published authors. They emphasized a desire to provide a platform for authors whose work may not typically be picked up by large publishing companies.
"We want to open up our doors to basically any author, as long as their content is age-appropriate, and allow them to publish their work on our site free of cost," Wolf said. "We just want to help them showcase their work and get their name out there. It's one of the big things about us."
Wolf first conceived Storybook Factory idea about two years ago when looking through Dr. Seuss books in a children's bookstore at Universal Studios.
"I was just wondering to myself: Why would kids rather pick up their parents' iPad or iPhone and play a mindless game like Angry Birds or binge-watch YouTube videos rather than picking up a good book?" Wolf said. "It kind of bothered me. I wanted to figure out a way to make books more engaging again."
Wolf took the idea to his Innovations class where he began narrating books like "The Lorax" and "Fox in Socks" and posting them on a YouTube channel.
In its first six months, Storybook Factory's YouTube channel had thousands of subscribers and more than a million views among its 27 videos.
Then near the end of his senior year, Wolf presented his vision for The Storybook Factory at a Venture Club of Indiana meeting where he met Indianapolis attorney Steven Robinson.
"What he was talking about with The Storybook Factory rings true to me because kids now are so engrossed in video games," Robinson said. "The art of reading and writing is starting to die."
Robinson invested $25,000 in Storybook Factory, allowing Wolf to hire five employees—all current or former Innovations students—and take a year off between high school and college. He plans to attend IUPUI this fall.
But just one week after The Storybook Factory received its funding, Wolf learned he hadn't been following copyright law by narrating and creating videos of popular children's books without getting permission from the publishers first. He said he had no idea what he was doing was a breach of federal law until Stone called with news that Storybook Factory videos were blocked.
"I didn't understand copyright laws that well," Wolf said. "The books that I put up I eventually had to take down, but it was a good time because that was when we transitioned into building our own platform."
Despite fears of losing their audience, Wolf and Stone approached the setback as an opportunity.
"It seemed absolutely horrible for the first 24 hours, but after that it was actually a pretty great experience," Stone said. "We were like, 'OK, now that this is totally gone, let's approach it in a completely different way and try to be as engaging as we can.'"
Together, Wolf and Stone contacted independent authors and publishing companies to curate content for a new Storybook Factory website.
A team of two web developers and two graphic designers then worked to redesign the authors' paperback books for a digital platform.
"Watching how a child interacts with your website, like their process that they take to try to see something as intuitive is completely different from what you or I would do," Stone said. "It's got to be intuitive to kids and it's got to be able to be used by authors, teachers, parents as well."
The website recently completed a three-month beta-testing period where Storybook Factory team solicited feedback from teachers and children about the website's functionality
The process helped the team discover Storybook Factory was especially helpful for Spanish-speaking students learning English.
Wolf and Stone said that along with individual subscriptions, they hope to market Storybook Factory to classrooms and afterschool programs where it could supplement school curriculum.
With similar services like Netflix and Spotify revolutionizing the television and music industries, Wolf said he believes Storybook Factory can make similar waves in children's publishing.
"We believe in the impact this can make so whatever it takes, we will make it happen," Wolf said. "We're very confident in our technology and the tools we've built."
Please enable JavaScript to view this content.