A planned $30 million custom home development in the heart of Fishers is expected to include 60 single-family homes, but it could grow beyond that.
Joe Nixon Properties LLC and Gradison Design-Build initially had plans to construct eight single-family residential units along Morgan Drive between Lantern Road and the Nickel Plate Trail, but in the past few months, the companies have continued to acquire property in the neighborhood near Fishers Elementary School.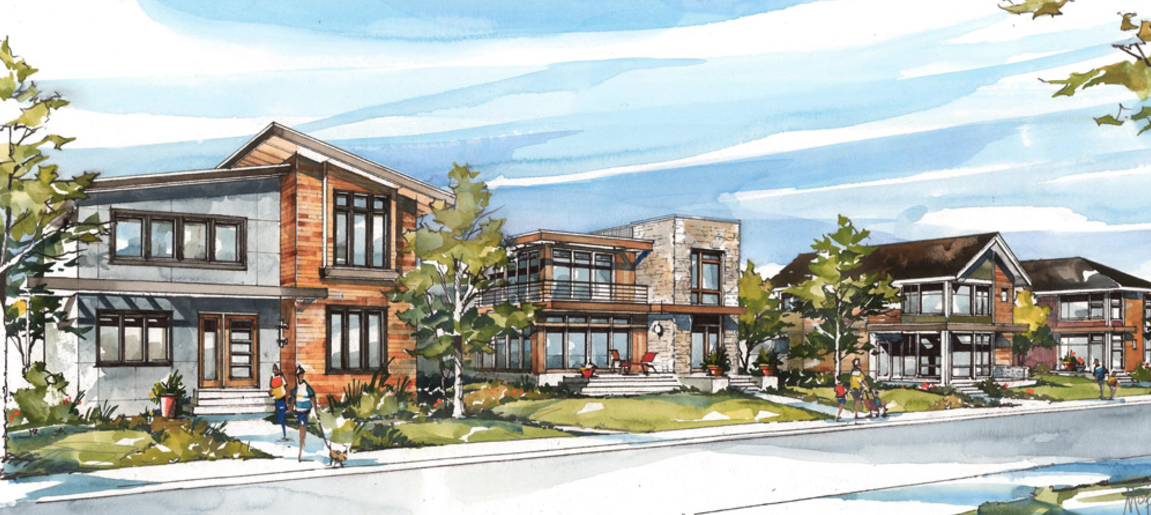 Late last month, the developers announced that the development, known as South Village of Nickel Plate, had expanded to 60 homes. And if more property is acquired, the project could continue to grow, Mark Gradison, president of Gradison Design-Build, told IBJ.
The area targeted for redevelopment encompasses much of an existing neighborhood near Fishers Elementary School along Lantern Road and Meadows Drive, south of Morgan Drive and north of Fishers Pointe Boulevard. The area is just south of East 116th Street and just west of Interstate 69.
The project would include detached single-family homes that are starting around 2,200 square feet and have modern features mixed with cottage or farmhouse designs. Prices would start at about $400,000. Existing homes, most of which were built in the 1960s, would be demolished for the development.
The project is expected take about five years to complete. Infrastructure improvements such as adding 6-foot sidewalks, on-street parking and upgrading stormwater systems in the area are part of the project.
Gradison said the lot sizes for the new homes will be smaller than existing lots, meaning multiple homes can be constructed on the same property where one home exists now.
He declined to specify how many properties they've acquired, and while they do not have control over all of the homes in that neighborhood, he said they have enough land to construct the proposed 60 homes.
Gradison said they're still interested in buying more property in the area, but they "don't need to have them all by any means."
"Nobody is being forced out. Nobody is being asked to leave," Gradison said. "We're not buying them at distressed levels. So, it's a win-win situation."
Fishers Mayor Scott Fadness said he's excited about the project and the potential to add a new type of residential option near downtown.
He said the city had no role in the properties being sold. He said he's heard from people who are unhappy about selling their homes as well as residents who are glad their property values are likely to increase because of the project.
"A developer knocked on the door and said, 'Would you be interested in selling your home?' and they got to an economic agreement that made sense to them all," Fadness said. "So, if people choose to do that from the private sector and someone comes in and wants to reinvest in our community, I think that's great."
The developers have compared the project to the redevelopment of Carmel's Art & Design District, where custom home builders have slowly replaced aging homes with more upscale residential options.
Gradison said their target customers will be millennials, and they're marketing the walkability of the neighborhood, given that it is near the Nickel Plate District.
A model home is expected to be under construction soon. Five homes have already been demolished for the development.
Gradison said three customers are in the design phases, and those homes should start within three months.
"We're super excited to be able to transform a neighborhood," Gradison said. "This is really the first significant transformation we've been able to do."
Please enable JavaScript to view this content.