Editor's note: This story was updated at 12:15 p.m. on June 30.
Two coffee shop hopefuls looking to open on neighboring lots in the Carmel Arts & Design District have learned their divergent fates.
Indie Coffee Roasters received approval earlier this month from the Carmel Plan Commission for minor renovations to a house at 220 E. Main St. and likely will open later this year.
But the Plan Commission recently denied a request from another caffeinated business, Carmel Coffee, which proposed building modifications to the adjacent house at 240 E. Main St. (Click image below for larger view.) The decision came after several residents—and the owners of Indie Coffee Roasters—voiced concerns about traffic congestion and safety.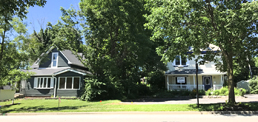 Indie Coffee Roasters will open at 220 E. Main St., situated at left. A proposal for Carmel Coffee next door at 240 E. Main St. has been denied by Carmel officials. (IBJ Photo/Lindsey Erdody)
Carmel is no stranger to coffee shops. In January 2016, the city highlighted local coffee and tea offerings with the creation of a new Carmel Caffeine Trail, featuring at least seven cafes and shops in or near the Arts & Design District.
Construction has begun at Indie Coffee Roasters, which was founded in November 2013. This will be the first physical location for the roasting company, which sells "roast-to-order" coffee in 4-ounce and 12-ounce bags.
Indie Coffee Roasters shop will seat more than 45 patrons indoors and outdoors, according to public documents, in the house that was formerly home to Helio Gifts and Tea Room.
Indie Coffee Roasters co-owner Alec Tod told IBJ the building was purchased for about $350,000 in good condition. He and associates are working to tear down interior walls to create a more open atmosphere for the coffee house.
Tod said the roastery and coffee shop will likely be open 7 a.m. to 7 or 8 p.m. Tuesdays through Sundays, with coffee roasting occurring about 20 hours a week.
"We'll be roasting while people are in the store," Tod said. "They'll be able to see the whole process happen … and then they'll be able to taste it even up to hours later."
Indie Coffee Roasters also will offer will public tasting and home brewing classes, Tod said.
"We've seen a really cool growth in third-wave coffee culture in Indianapolis," Tod said. "Carmel has shops but is young in understanding what coffee culture is and what the process is to bring coffee from overseas into your actual cup of coffee."
When construction is finished, Indie Coffee Roasters will feature an outdoor patio, a coffee roasting room, and a walk-up window for ordering. A parking lot with eight spaces will be situated behind the house, accessed from a curb cut in front on Main Street.
Had plans been approved, Carmel Coffee would have been located immediately to the east of Indie Coffee Roasters.
As proposed, Carmel Coffee would have had a drive-thru lane that wrapped around the back of the house with space for about 10 cars waiting in line for service. Drivers would enter and exit the property from the same, single-lane curb cut, which sparked concerns about lines of cars backing up onto Main Street.
The property also would have a six-spot parking lot in front of the building, accessed through the same curb cut.
Matthew Griffith, an Indianapolis-based attorney representing owner Matt Schiller, said in a June 20 meeting of the Plan Commission that Carmel Coffee's requests were simply about cleaning up an "old, rundown, dilapidated building."
He said his client was willing to invest nearly $750,000 in the project, including replacing additions to the original house and adding new space for storage and restrooms.
Those opposed to the project argued that the coffee shop's limited vehicle space would lead to congestion on the busy Main Street corridor, and that it compromised the safety of students walking to and from nearby Carmel High School and Carmel Elementary School.
Tod, of Indie Coffee Roasters, spoke against the drive-thru at Carmel Coffee's first appearance before the Plan Commission on May 16.
"We totally understand and are open to coffee continuing to grow in Carmel," Tod said. "If walkability is the key and bike-ability is the key, then we want that to be primary in Carmel, especially in the art district, and not the drive-thru culture."
Griffith argued in the following Plan Commission meeting on June 20 that traffic concerns were overstated.
"The biggest proponent of this theory that a drive-thru on Main Street will cause traffic problems actually comes from a competitive coffee shop," Griffith said in the meeting. "Someone that doesn't want to see a coffee shop at this building."
The Plan Commission voting unanimously in the June 20 meeting to deny Carmel Coffee's requests, despite proposals to potentially mitigate congestion. Commission members weren't convinced the modifications could fix the safety issue.
"It's inevitable," Plan Commission member John Adams said. "There's going to be back-ups and that driveway is going to be blocked."
Griffith, whose client doesn't own the building at 240 E. Main St., said the window to buy the property will close the first week of July.
Griffith and Schiller didn't respond to IBJ's inquiries about the coffee company's future. Indianapolis attorney Max Mouser, who also represented Schiller, declined to comment on behalf of his client.
Please enable JavaScript to view this content.