While many retailers are closing stores in droves, one store catering to teens and preteens is expanding its footprint across the country and planning to open a location in Whitestown.
Five Below, a Philadelphia-based retailer that sells all items for $5 or less, has filed plans for a store in a RealtyLink development called the Shoppes at Whitestown, a $50 million retail project north of Perry Worth Road and south of Central Boulevard, to the west of Main Street.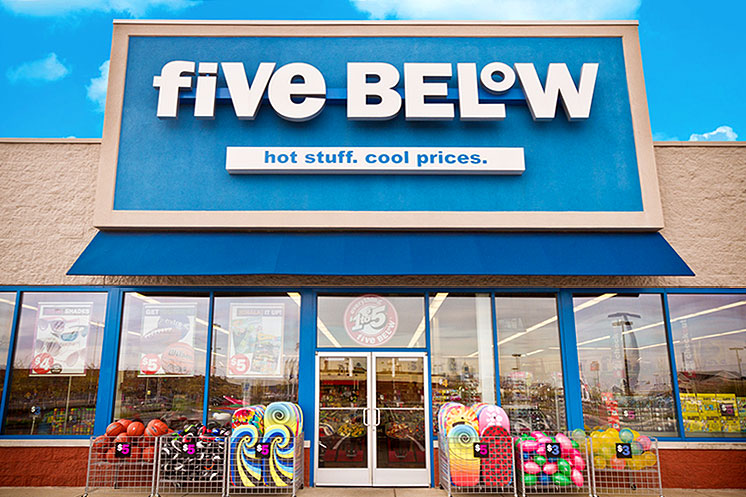 Five Below (see courtesy image to the right) has been on a growth streak lately, opening 31 stores in the first quarter this year. The company expects to open a total of 100 stores this year. It already has more than 575 locations in 32 states.
Three stores are already open in the Indianapolis area—one in Plainfield, one in Castleton and one in Carmel.
In other retail news:
• Auberge, a French inspired restaurant, opened this month at the Brick Street Inn in Zionsville. The restaurant serves dinner Tuesday through Saturday and brunch on Saturday and Sunday. It replaced Patrick's Kitchen and Drinks, which closed at the end of 2016.
• A martial arts school could be relocating in Fishers. Master Yoo's World Class Tae Kwon Do has filed plans to open at 12290 Olio Road, just north of its existing location in Fishers at 11760 Olio Road. The school also has a location in Noblesville.
• The former Walgreens store on the southeast corner of State Road 37 and 126th Street has a new tenant. Dollar Tree recently opened in the freestanding building at 12550 Reynolds Drive.
• Planet Fitness is adding a location in Fishers. The fitness center is slated for 11728 Fishers Crossing Drive, just off Allisonville Road. The company has more than a dozen locations in the Indianapolis area, but none in Fishers.
• A boutique has replaced a hair salon at a retail center in Fishers. Gratitude Boutique and Gifts is open at 8912 E. 96th St. in space formerly occupied by Salon Krelic.
• Toppers Pizza has filed plans to open at 11640 Brooks School Road in Fishers. This would be the second Hamilton County location for the take-out and delivery pizza franchise. The chain, which opened in Whitewater, Wisconsin in 1993, has more than 100 stores in the Midwest.
• A Geist salon is expanding into Westfield. Beauty Bar plans to open at 14647 N. Gray Road by the beginning of September. The salon offers hair, skin and nail services, and serves wine, champagne, beer, bourbon and cocktails.
• A senior citizen fitness center is expected to be included in a new professional building in Westfield. Motion 4 Life, which offers fitness opportunities for those ages 50 and older, will be located at 14801 Market Center Drive. Gilmore Chiropractor will also have an office in the building.
• Sweet M's Boutique is open at 2446 E. 146th Street in Westfield in the Cool Creek Commons shopping center. The locally-based retailer also has two stores in Plainfield.
• An Indiana-themed boutique recently opened at Hamilton Town Center in Noblesville. Home Grown Indiana, 13185 Harrell Parkway, carries candles, T-shirts, jewelry and other items mde in Indiana.
• A mattress and bedding retailer is coming to Noblesville. Sleep Solutions, which has four locations in four states, has filed plans to open at 14741 Hazel Dell Crossing in the retail development on the northeast corner of Hazel Dell Parkway and 146th Street.
• AAA plans to open an office at 1438 W. Main St. in Carmel in the same development as Wild Eggs, east of U.S. 31.
• Brightway, The Phung Agency opened July 17 at 8756 E. 116th St. in Fishers, next to Handel's Ice Cream & Yogurt. Owned by Man Phung, it is the first Brightway Insurance agency in Indiana. 
• Fidelity Investments has filed plans to open an office at 14405 Clay Terrace Boulevard.
• Also in Clay Terrace, a retailer of vintage and Indiana-themed T-shirts is opening, Property Lines reported earlier this week. The Shop will take 1,200 square feet last occupied by pet supply store Moochie & Co. The store should be open by September.
• Property Lines also reported that Stompin Barley has opened at 14560 River Road No. 140 in Carmel. The restaurant offers small plates and entrees made from local ingredients, plus craft beer and wine.
In closings:
• Ted's Montana Grill has closed at 14490 Clay Terrace Boulevard in Carmel. Its location in Trader's Point on 86th Street remains open.
Please enable JavaScript to view this content.