The city of Lebanon is hoping to create a commercial center that could blend co-working offices, maker space and retail under one roof.
The Lebanon Redevelopment Commission recently agreed to purchase the former Bill Estes Chrysler dealership on the northeast corner of Lebanon and Superior streets for $520,000.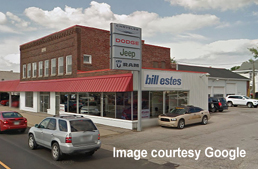 Bill Estes Chrysler moved from its previous location earlier this year. (Image courtesy Google)
The property, which includes a sales office, garages and a parking lot on the west side of Lebanon Street, is only about two blocks from the courthouse square. The buildings offer a total of about 12,000 square feet.
Bill Estes relocated the dealership to Brownsburg earlier this year, and the property has been vacant since then.
Lebanon Mayor Matt Gentry said the city hasn't exactly defined what the building will be used for, but ideas include a maker space, restaurant incubator, co-working offices and possibly retail uses like a coffee shop or tap room.
Ideally, Gentry said, it would be some combination of all the uses.
"It really lends itself well to kind of that dual purpose," Gentry said. "This is really something that's on the cutting edge for the state of Indiana."
He said the former sales floor could be the retail area, and the second floor could be co-working space and meeting rooms. The garages could be used for maker and artisan workshops.
The cost to renovate and redesign the space is still unknown, but one Redevelopment Commission member wasn't thrilled about the cost to acquire the property.
"We're not getting a really good deal," commission member Jim Morog said at its July 10 meeting. "I love the project but I'm really reluctant to approve a half-million dollars."
Gentry said the cost was slightly less than the average of two appraisals, so he thinks the price is appropriate.
"It's an opportunity for us to do something unique and creative on a critical piece of property on our main corridor," Gentry said.
Commission member Robert Taylor agreed.
"We may spend some money, but are we going to generate money from the money we spend?" Taylor said. "I don't know, but I see the potential."
The commission approved the purchase, 3-1, with Morog opposing it, at the July 10 meeting.
Please enable JavaScript to view this content.