Whitestown officials have approved the design of a proposed senior living community from Carmel-based Mainstreet that went through a significant revision from plans submitted earlier.
The facility still will consist of 96 beds spread throughout eight buildings, but now every resident will have a personal living area. All of the units will have elements of a house, with separate rooms, bathrooms, kitchens and front porches. (See accompanying image at top, with an exterior rendering below.)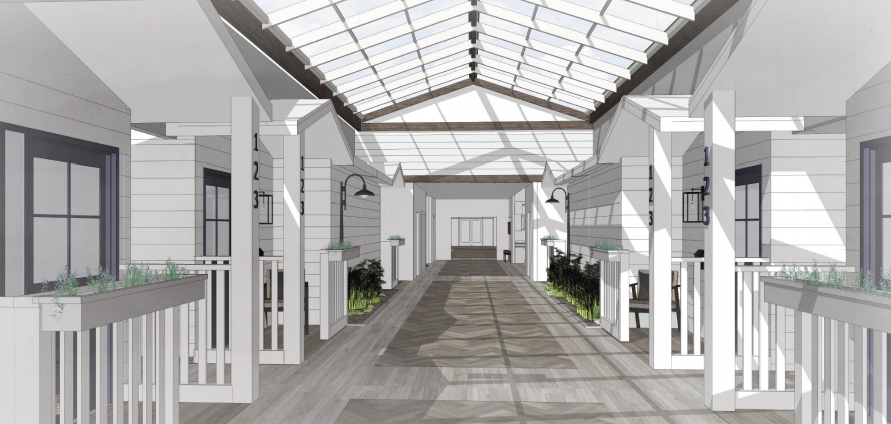 Mainstreet also revised the site layout and increased the size of property from 10.5 acres to 16 acres. The complex will be located northeast of Main Street and Central Boulevard.
Mainstreet took it upon itself to make the revisions.
"We would rather invest the necessary resources to get a design right than build something that will regress to the status quo," Mainstreet CEO Zeke Turner said in a written statement. "These reworked designs set a new standard for the way home is defined, allowing people to live affordably in their own homes and still get the health care they need."
The development, known as NextHome of Whitestown, is now estimated to cost $20 million—up from $10.1 million, although that initial figure did not include land acquisition, furniture or equipment.
The Whitestown Plan Commission unanimously approved the new design at its meeting Monday. In 2016, when Mainstreet initially proposed the project, the town agreed to spend up to $600,000 to built an access road to the property. That road is now complete.
Mainstreet expects to begin construction by next year.

NextHome will be just north of a senior living community being constructed by Denver-based Spectrum Retirement Communities LLC.
The $35 million project will include 140 apartments in a four-story building designed for independent living, and 40 units in an adjacent two-story building for assisted living and memory care. It will be located at 6800 Central Blvd.
The community will include amenities like a movie theater, salon, bistro, retail space and on-site concierge services.
It should be open by early 2019.
Please enable JavaScript to view this content.