Three Zionsville residents are trying to redevelop a 13-acre site just south of downtown into a residential neighborhood.
Attorney Matt Price, engineer Andrew Heard and business coach Paul McCoy teamed up to purchase two properties located at 410 S. 4th St. and 500 S. Main St. in 2015 after being concerned about what types of projects other developers might want to pursue there. The two properties together cost $327,500, according to state sales disclosure records.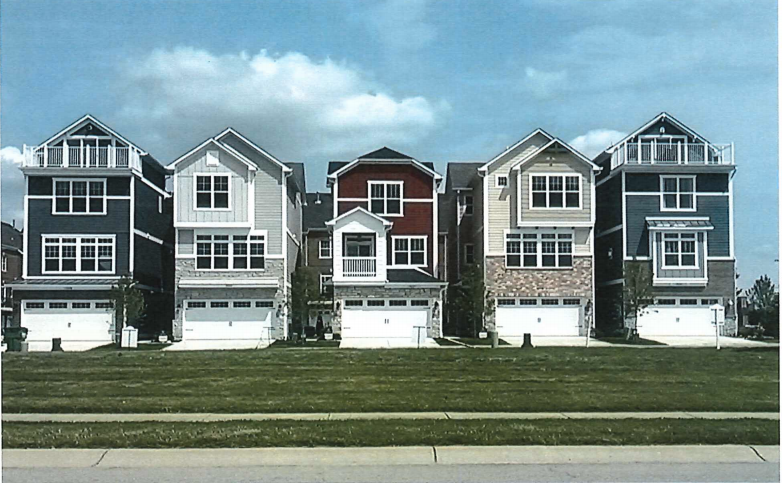 "If you want to control what's going on in your environment, then own it," McCoy said.
They spent the past two years discussing their options, and earlier this year filed plans for a 24-home neighborhood called The Cove.
The group is partnering with Carmel-based Sigma Builders LLC to construct the detached single-family homes on three acres of the property. The remaining 10 acres, which are in a floodway, would remain as green space.
The homes would be two or three stories tall and would resemble the cottages Sigma Builders has constructed at the Bridgewater development in Westfield (see image above).
McCoy said they're targeting empty nesters and plan to either include elevators in the homes or design the floorplans so elevators could easily be installed in the future. Each unit would also have a two-car parking garage.
The homes each would be about 2,000 square feet and could cost between $400,000 and $500,000.
McCoy said construction could start early next year.
A trailer park currently occupies part of the land, and nine residents within eight trailers still live there. McCoy said his group will give residents four months notice to relocate and plan to help with the moves "to make it as painless as possible and fair to them all."
He said the total cost of the project is still unknown, but the investment to get the land ready could reach $1 million.
The group is requesting to rezone the property from urban residential to planned unit development. The Zionsville Plan Commission has sent the proposal to the Zionsville Town Council with a favorable recommendation, and the council could vote on the project on Oct. 2.
Please enable JavaScript to view this content.