A proposal for an age-restricted community could bring up to 157 homes to the northeast side of Carmel.
Atlanta-based Beazer Homes of Indiana LLP has filed plans to build a mix of two-family attached villas and single-family detached homes near the northeast corner of 136th Street and Keystone Parkway.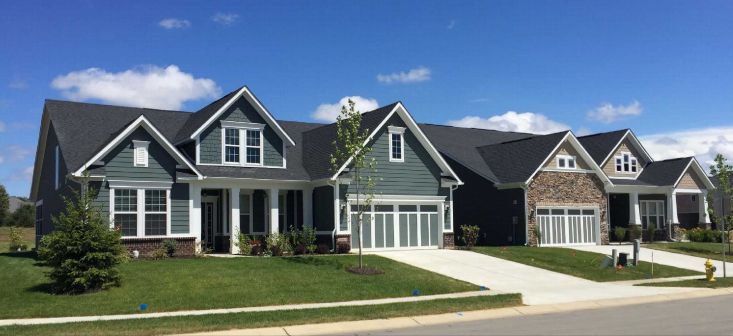 The development, known as The Reserve at Cool Creek, would be restricted to residents ages 55 and older.
The villa homes would range between 1,500 square feet to 2,100 square feet, and prices would range from $225,000 to $300,000.
Up to 104 villas would be allowed under a proposed zoning ordinance for the project.
The single-family ranch homes would be 2,200 square feet to 2,700 square feet and would range from $325,000 to more than $450,000.
Ty Rinehart, vice president of land acquisition, said construction could start next spring. The total cost of the project would be $60 million. 
Nearly 40 percent of the 60-acre property would remain open space, and a pond would be adjacent to most of the Keystone Parkway border.
According to documents filed with the city, 75 percent of homeowners would have private views of woods, water or common green space.
The neighborhood would have access from 136th Street, Smokey Ridge Trail, Smokey Ridge Lane and Matt Street.
The property is mostly vacant, except for a home that was originally built as a two-story log cabin in 1834. The house was expanded in 1853 and 1909. Beazer is working with the Carmel Clay Historical Society and Indiana Landmarks to find a way to preserve the historic home, and is expected to update the Carmel Plan Commission on the preservation plan at a meeting Tuesday.
The property is currently zoned for residential, and Beazer is requesting to change it to planned unit development. The land is surrounded by other subdivisions on three sides, and Keystone Parkway to the west.
More than 500 residents living in the Smokey Hollow, Smokey Ridge, Foster Estates, Laura Vista and Yorktown Woods subdivisions have signed a petition opposing the project.
The Carmel Plan Commission residential committee is expected to discuss the proposal at its meeting Tuesday, but a final vote could not occur until a full Plan Commission meeting Oct. 17.
Please enable JavaScript to view this content.