The first Indianapolis-area location for a Mexican fast-food chain will be in Boone County, but more locations should soon be on the way.
Franchisee Don Dunbar has filed plans to open a Taco John's at 2004 N. Lebanon St. in Lebanon.
The Cheyenne, Wyoming-based chain has two other locations in the state—both in Evansville. The restaurant has 392 locations in 23 states.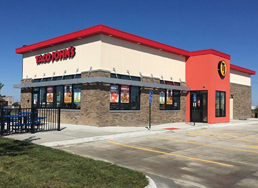 Free-standing restaurants in the Taco John's chain typically measure between 1,600 and 2,100 square feet. (Image courtesy Taco John's)
The Lebanon restaurant would be directly north of the Bill Estes Chevrolet Buick GMC dealership. A vacant building on the property would be demolished and replaced by the 1,800-square-foot restaurant.
Kent Frandsen, partner with Parr Richey Frandsen Patterson Kruse LLP who is representing Dunbar, told the Lebanon Plan Commission last month that the restaurant would be a $1.2 million investment.
Dunbar is also working with BoomBozz Craft Pizza & Taphouse operator Michael House, who initially revealed plans to bring Taco John's to Indianapolis in 2015.
"Our strategy is to get our name recognition going by starting in the small towns surrounding Indianapolis," Dunbar said at the Sept. 18 Plan Commission meeting.
He said they are looking to add locations in Greenfield, Kokomo and Greenwood. The plan is to open 12 restaurants in central Indiana in the next five or six years.
The Plan Commission signed off on the plans Sept. 18.
"We think it's a good spot, and we're anxious to get going," Dunbar said.
The Taco John's menu includes a variety of tacos and burritos. According to the restaurant's website, the favorites are street tacos, the meat & potato burrito and potato olés, which resemble tater tots.
Please enable JavaScript to view this content.