The company that revolutionized dry cleaning is opening in Noblesville with its first Indiana location.
Martinizing Dry Cleaning, which debuted in 1949 and is known for its "One Hour Martinizing" solution to dry cleaning clothes, has taken 2,400-square-feet of space at 14350 Mundy Drive, Suite 1300. It's just off State Road 37 between 141st and 146th streets.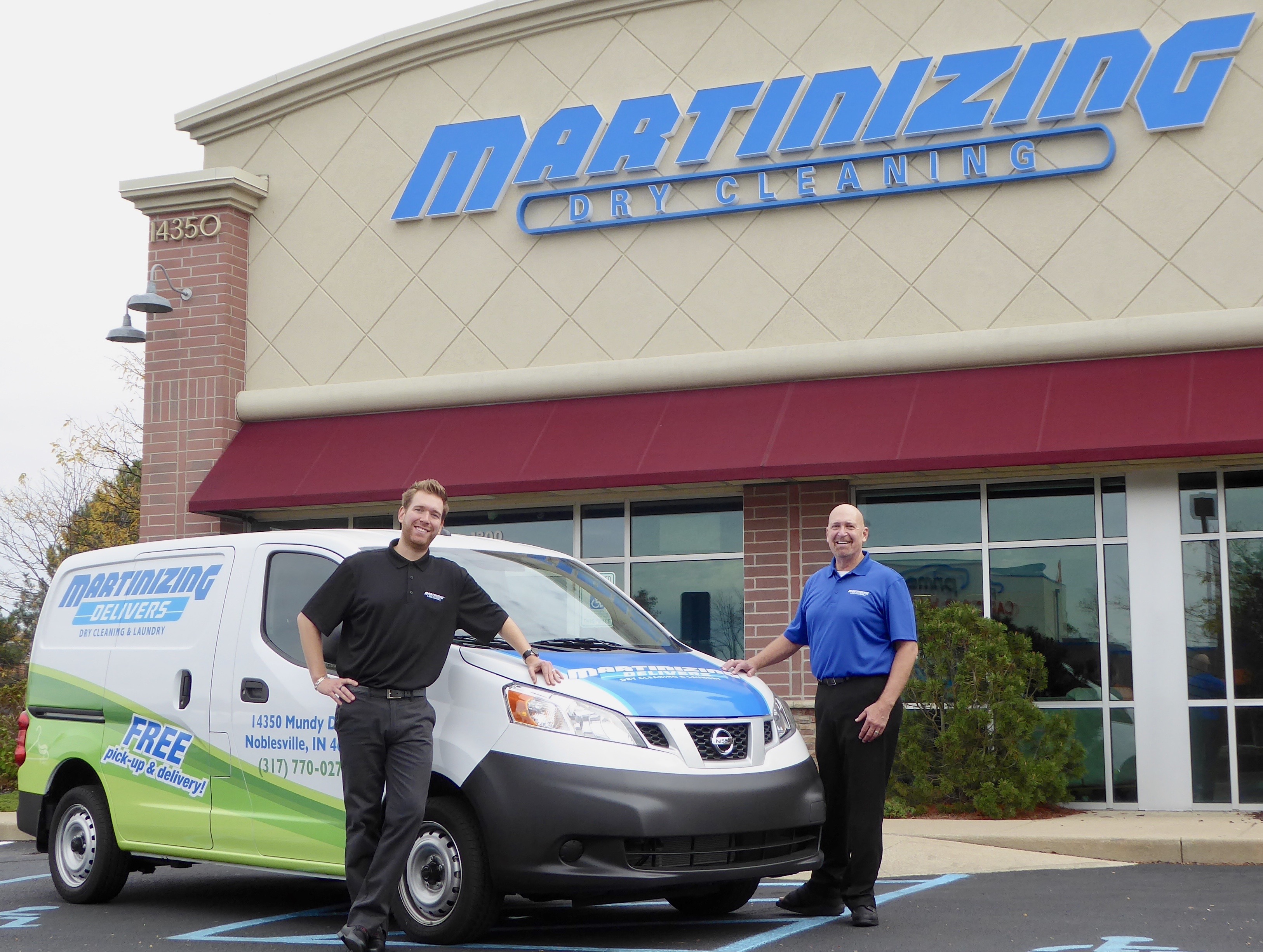 Pharmacist and former hospital administrator Kent Brown and his son Keith Brown own the 2,400-square-foot store, which opens Friday (see accompanying image). It offers free home and office pick-up and delivery, as well as cashless on-demand service available through an app.
The family-owned company was started by chemist Henry Martin, who introduced a new solvent that allowed clothes to be dry-cleaned on-site in an hour when it had previously taken days. Based in Loveland, Ohio, the company is considered the largest dry-cleaning franchise in the world, with more than 450 stores.
In other retail news:
• Noble Roman's Craft Pizza & Pub has another location on tap. Indianapolis-based Noble Roman's Inc. has filed plans to open the third location of its fairly new restaurant concept at 11715 Allisonville Road in Fishers. The company debuted the concept in Westfield less than a year ago, and a second location is expected to open next month at 6428 Whitestown Parkway in Whitestown.
• In other pizza news, Greek's Pizzeria is moving down the street in Westfield. Local developer Bob Beauchamp said the restaurant is relocating from 205 Park St. to 231 Park St. to expand. The existing building is about 1,200 square feet and the new one is about 3,000 square feet.
Beauchamp, who owns both buildings, said the new location will have about 85 seats indoors, plus a deck and a bar. The existing space where Greek's is located is expected to become a coffee and ice cream shop.
• The latest location of Books & Brews opens Friday in at City Center in Carmel. The bookstore and brewpub will offer a full menu, including beer cheese chip, flatbreads and grilled sandwiches.
It is the fifth Books & Brews location, but the first franchise. The Carmel taproom, located at 61 W. City Center Drive, is owned by Alex and Lori Stanley. Other locations are in Zionsville, Indianapolis, Muncie and Brownsburg.
• Whitestown is getting its first ice cream shop. Fundae's Ice Cream, offering 32 flavors on a rotating basis, will be located at 7157 E. Whitestown Parkway. The store will be owned and operated by Whitestown residents Donny and Kas Miller. It is expected to open in March.
• And speaking of ice cream, SubZero Ice Cream and Yogurt is now open at 111 W. Main St., Suite 130, in Carmel.
• Blaze Fast-Fire'd Pizza is now open at 11669 Commercial Drive in Fishers. It is the sixth Indiana location for the fast-casual pizza restaurant. All of the pizzas are personal-sized and cooked in less than 180 seconds in an open-flame oven.
• Across the street from Blaze, Nothing Bundt Cakes is now open at 11680 Commercial Drive, suite 500.
• Panda Express plans to build a new location in front of Lowe's Home Improvement at 6711 Whitestown Parkway in Zionsville. Construction could start in April, with the Chinese eatery opening in August.
• Life Refined Chiropractic has filed plans to open at 14297 Bergen Blvd., Suite 110, in Noblesville. According to the company's Facebook page, the office will open in January.
• Tequila Sunrise Mexican Cuisine is now open at 11653 Fishers Station Drive in Fishers.
Please enable JavaScript to view this content.