Beazer Homes is planning a 600-home development that would wrap around the Golf Club of Indiana in Whitestown.
The 155-acre retirement community would be located directly to the west, south and east of the golf course (see site plan below), which would remain open to the public and under the same management, according to a report from town planning staff based on Beazer's primary plat.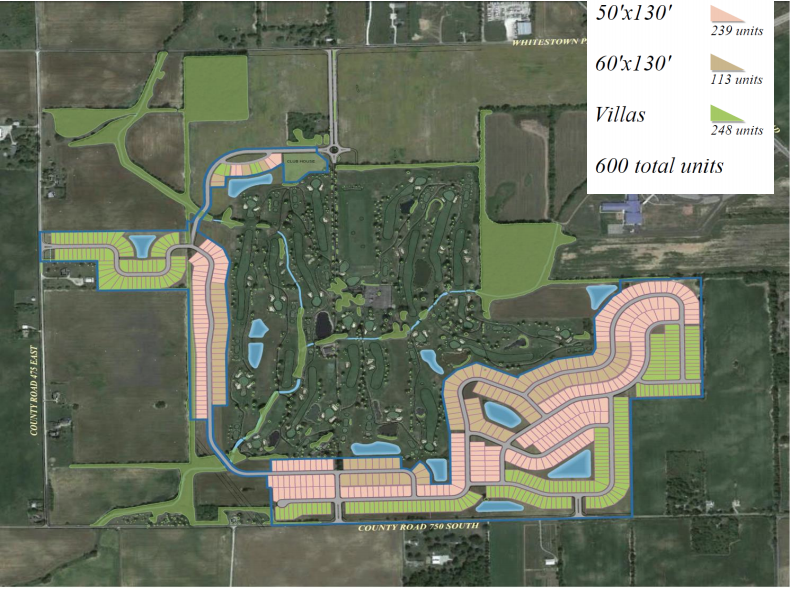 Indianapolis not-for-profit BHI Senior Living Inc. currently owns the golf course and the surrounding property.
The project would include a mix of single-family ranch homes and two-family attached villa homes. Beazer Homes plans to target empty-nesters, and the neighborhood would be age-restricted to those 55 and older.
The 352 ranch homes in the development are expected to range in price from $250,000 to $500,000, depending on the upgrades and amenities.
The 248 villas in the community could cost $200,000 to $300,000.
Land development could start in the spring. Beazer Homes declined to provide additional details about the project, including the cost and how its arrangement with BHI would play out.
The Whitestown Plan Commission approved a primary plat for the development on Nov. 13. No other board approval from the Plan Commission or Whitestown Town Council is required before construction begins.
Please enable JavaScript to view this content.