Taylor Jennings doesn't want people to do their business at home.
Instead, he wants them to go to an OutHouse, a co-working space that also serves as a furniture showroom for Jennings Commercial Interiors.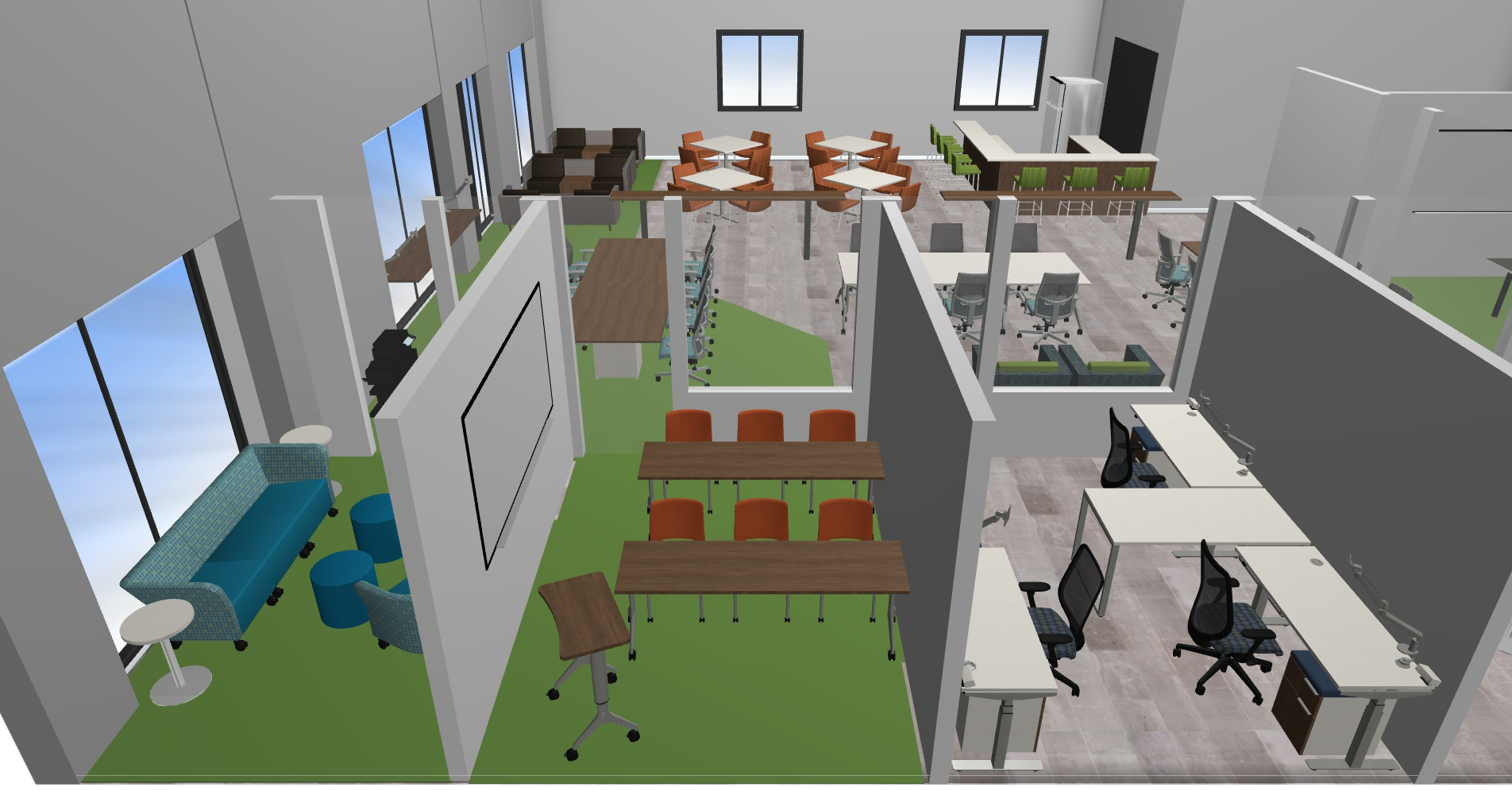 "When is the last time you heard someone use the word 'outhouse'?" said Jennings, CEO of OutHouse Coworking LLC. "It's a dying term. …We're looking to rebrand that term."
The first OutHouse location is expected to open at 540 Westfield Road in Noblesville by March 1, and others around central Indiana could soon follow.
It will be the first co-working space to open in Noblesville.
The facility (click on images for larger view) will have four meeting rooms, a game room, six 65-inch TVs, gaming monitors and a kitchen area. It will also have a sound masking system.
Members will have 24/7 access to the facility. The membership fee is $129 per month.
The space will feature pieces from the sales and services furniture company Jennings launched in 2016 called Jennings Commercial Interiors. Prior to starting his own company, Jennings spent more than five years with Fishers-based OfficeWorks.

Unlike other co-working spaces that typically try to attract entrepreneurs and start-up companies, Jennings said OutHouse is targeting employees of existing corporations but have the go-ahead to work off-site.
Jennings said it will give those employees an opportunity to work close to home but still in an office setting. The employees will be able to clock in and out at OutHouse, and 10 percent of membership fees would go toward a furniture purchase credit.
And there would still be support for the start-up community—2 percent of furniture sales from new customers located in the same city as an OutHouse will be donated to startups.
Jennings said he's looking to open additional locations in cities with less than 150,000 people, and it's possible the brand could be franchised.
There would be three different types of OutHouse facilities: The smallest location would be 1,500 to 3,000 square feet and feature a mix of dedicated spaces and open co-working; the mid-level location would be 3,000 to 8,000 square feet and have the option of having event space and more meeting rooms; and the largest size would be more than 8,000 square feet and heavily feature private offices while retaining open co-working, dedicated space and meeting rooms.
The Noblesville location will be 3,000 square feet.
After the Noblesville OutHouse opens, Jennings hopes to open two or three more this year and is considering spaces in Lebanon, Carmel and Fortville. Out-of-state locations could follow.
"It's the Starbucks of co-working spaces," Jennings said.
And while the space will be considered a furniture showroom, Jennings said he expects furniture sales to come from the companies paying for OutHouse memberships for their employees rather than bringing in potential customers to tour the space.
The Noblesville location will mostly feature furniture made by HON Co. Jennings said OutHouse has spent about $175,000 on construction and furniture for the office.
"We're not sparing any expenses with what we're putting into the space," Jennings said. "It's just an office, but so many other people aren't doing it right."
Please enable JavaScript to view this content.