Pivotal Solutions, which provides management and sales coaching to auto dealer groups in nine states, soon will be able to offer some of that training closer to home.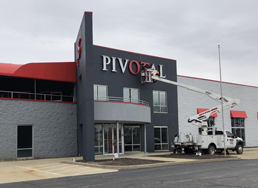 The 18-year-old company is putting the finishing touches on its new headquarters, a 12,000-square-foot building in Crosspoint Commons in Fishers (see accompanying image), just northwest of the intersection of East 96th Street and Hague Road.
The building, which has been vacant for the past few years, formerly served as a bike shop/café and was a Preston's Rocks jewelry store before then.
Pivotal Solutions, currently located in the Castleton area, is turning it into an office space and training facility equipped with high-tech touches that include a golf simulator, a gun training simulator and video equipment that can record training sessions. It plans to occupy the building in April.
"We're exploring some new ways to deliver sales coaching via technology," said Rob Norris, the company's president and founder.
Pivotal Solutions works with large dealership groups in nine states, including those as far away as Colorado and Maine, Norris said. But the firm also has clients closer to home, including the Ray Skillman and Bob Rohrman automotive groups in Indiana.
Currently, Pivotal Solutions conducts its classes either at the client's dealership or at a rented facility. With the new space, the company will be able to offer training at its own facility as an option. The building will also have full banquet serving capabilities and be capable of hosting special events with up to 100 people.
Automotive sales training is huge business, Norris said. Car dealerships traditionally have high staff turnover, so there are always new employees that need to be trained.
Pivotal also has some other lines of business, including a marketing arm that serves about 450 clients from various industries. But about 70 percent of revenues come from the automotive consulting and training, said Pivotal Solutions Vice President Rick Terry.
The company has between 15 and 20 employees (the number fluctuates depending on how many part-timers are on the payroll). Over the next year or so, Terry said, Pivotal will likely hire a handful of new employees because of expected growth related to the new facility.
So where do the golf and gun simulators fit in?
One way, Norris said, is as a fun enhancement to the training sessions. Students might break into groups for a simulated golf competition that incorporates review questions from the day's lesson, for instance.
Participating in group activities can also help with team-building, Norris said. "You can learn a lot about (team members') nature, just watching how they behave and act and what happens."
Norris said Pivotal purchased the new building but declined to reveal the size of its investment. Its current space is leased.
Please enable JavaScript to view this content.