As more cornfields succumb to suburban sprawl, fast-growing Fishers is preserving a 32-acre plot for an urban farm, to educate residents about food production while also helping to ease hunger.
Mayor Scott Fadness announced this week during his State of the City address that Fishers is partnering with Brandywine Creek Farms on the project at the southeast corner of 113th Street and Florida Road.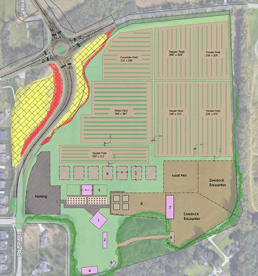 The farm is expected to be operational this summer, with programming available. (Click image at right for larger view of site plan.)
"We're very excited about this project," Fadness told IBJ. "We think it's a unique spin on parks. I think it's going to be really amazing."
Fishers AgriPark, which Fishers officials say will be the largest park in the country dedicated solely to a working farm, will feature crop fields, some livestock, aquaponics, an outdoor classroom, farmers market and eating area. Beehives and honey production also will be available.
Greenfield-based Brandywine, a not-for-profit whose mission is to eliminate hunger and food insecurity in central Indiana, will operate the farm. It provides locally raised produce to food pantries and will donate a portion of the produce from the Fishers farm to the Good Samaritan Network in Hamilton County, Fadness said.
"Many Hoosiers are several generations removed from farming and give little thought to where their food comes from," said Jonathan Lawler, executive director of Brandywine Creek Farms, in written comments. "This will be a very approachable place to reconnect with the land and to get involved in efforts to end hunger in our communities."
Volunteers will be needed beginning in early May to help plant crops and throughout the summer and fall. Groups, companies and individuals can register to volunteer at www.brandywinecreekfarms.org.
Jonathan and Amanda Lawler in 2016 turned their 77-acre Greenfield farm into a not-for-profit and started donating produce to the hungry.
The operation since has expanded to 140 acres, including a 1.3-acre urban farm at Flanner House on the near-north side of Indianapolis and a 7-acre urban farm at Finish Line Inc.'s headquarters on the east side. Growing-only locations are in Cumberland and Shelbyville.
Also, in the State of the City address, Fadness said he intends in the next 60 days to announce $150 million in capital investments and hundreds of new jobs for Fishers.
Last year, companies expanding or locating in Fishers created 2,100 jobs and made $64.5 million in capital investments, both record numbers for the city, Fadness said.
Newcomers Ikea, Portillo's and Top Golf all opened last fall near the Interstate 69 and East 116th Street interchange.
Please enable JavaScript to view this content.