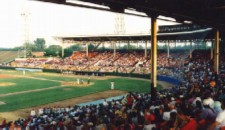 An auto salvage company is paying the city $2,000 per month to use the outfield of Bush Stadium to store vehicles
collected under the Cash for Clunkers program. It probably wasn't the use the city expected in 2007 when it ordered appraisals
of the historic ballpark as a first step toward eventual reuse or demolition. The Indianapolis Indians played in the West
16th Street stadium until 1996, when they moved to Victory Field. After that, the ballpark briefly served as home to a midget-car
racetrack. The 78-year-old stadium now is owned by the parks department. More is here.
Please enable JavaScript to view this content.