A partnership of Hearthview Residential, Mansur Real Estate Services, Lauth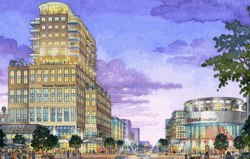 and Venture Real Estate has proposed a complex including a 14-story tower along with a Target store, office space and condos for the Market Square Arena site.

The $150-million project would include a total of 228,000 square feet of condos. The partnership group, dubbed Market-Ability Partners LLC, included in their application an expression of interest from Target.
Please enable JavaScript to view this content.