A local businessman has plans for two new independent restaurants downtown near the corner of Ohio and East streets. One of them, Cabo's Mexican Grill, is slated to open next week at 132 East St., across from Fifth Third Bank.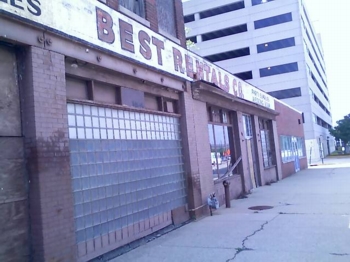 The other restaurant, which would serve Caribbean food, is planned for 123 N. New Jersey, site of the old Best Rentals building (pictured). The owner of a nearby Citgo station, Moe Hanif, is a partner in both restaurants. He used to own restaurants in Monticello, Indiana.

Other restaurant news: Many have e-mailed about the pending loss of the downtown B Dubs. The owner, Mike DeWeese, plans to close Buffalo Wild Wings after this weekend and reopen as an independent called Bada Boomz. BARcelona Tapas is now open at Delaware and Ohio streets. Any others?
Please enable JavaScript to view this content.