Marsh Supermarkets is hoping for final approval next month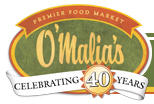 of a five-year tax abatement worth about $50,000 for a renovation of its downtown O'Malia's store. The company plans to invest $1.5 million in the project. Abatements for retail developments are rare, and this one seems particularly unusual since the store sits in a great location amid a growing downtown residential population. Marsh also doesn't plan to add to the store's staff of about 45. What do you think: Is this a justified reward for investing in the neighborhood, or is the city giving away too many tax breaks?

UPDATE: Marsh has decided to drop the abatement request.
Please enable JavaScript to view this content.