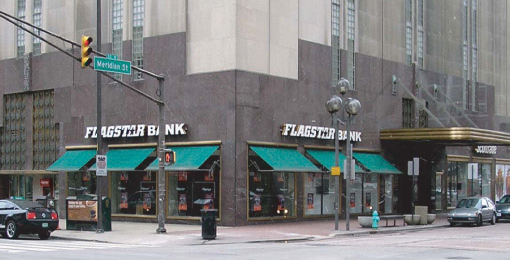 At the top of a lunch-time retail roundup: Downtown's Bearno's Pizza has closed and will be replaced by Flagstar Bank. A sign on the door says to look for Bearno's elsewhere in Indianapolis soon. Flagstar has applied for zoning approval for a projecting sign outside the building, which sits at the northeast corner of Washington and Pennsylvania streets. A hearing is scheduled for Sept. 25. No word yet on what's going in the Flagstar space at the corner of Washington and Meridian (shown here). In other restaurant news:
Ashley's Steak and Seafood has closed. The independent restaurant on 146th Street in Carmel had been open less than a year and was founded by a former partner in Stone Creek restaurants. The Web site for Ashley's says it closed in August.
Dunkin Donuts Watch: The first of 80 new stores is slated to open Sept. 10 at 1305 Range Line Rd. in Carmel. A new location at 7015 Kentucky Ave. is slated to open Sept. 24. The chain also has filed for a restaurant at 8812 American Blvd., near Zionsville Road.
Please enable JavaScript to view this content.