This week brought potential resolution for a couple of disputes in the neighborhoods surrounding Lucas Oil Stadium:


Board limits RCA Dome souvenir proceeds to $200K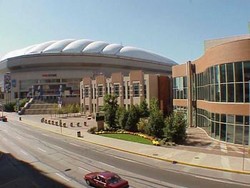 The Capital Improvement Board today agreed to rework an agreement involving the sale of seats, signs and other souvenirs from the RCA Dome in response to outcry over who should get the revenue. The Indiana Sports Corp. and the Colts Foundation have been organizing the auction of Dome memorabilia, most of which was bought with taxpayer dollars. In the new agreement, the Sports Corp. would be entitled to a fee of up to $200,000 to conduct the auction, with remaining proceeds going to the CIB. A local attorney sued the CIB earlier this month, arguing auction proceeds should help pay down debt on the RCA Dome. Should the lawsuit be dropped?


Neighborhood celebrates victory in zoning fight; company may appeal


Residents of the Babe Denny neighborhood south of downtown are celebrating after the Metropolitan Development Commission denied a zoning variance request for Indianapolis Welding Supply, one of the city's most frequently cited code violators. The company had hoped to rezone several plots and vacate some alleys so it could continue to store gas cylinders and semi-trailers on plots spread out over the neighborhood. Code enforcement officers have cited IWS more than 60 times in recent years. The company, which also is facing a lawsuit in environmental court over the violations, is considering an appeal of the zoning decision, said J. Murray Clark, an attorney for the owner.
Please enable JavaScript to view this content.