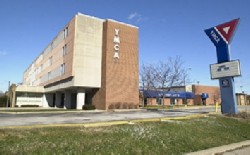 Two bidders
have submitted plans to redevelop the vacant former Fall Creek YMCA along West 10th Street with apartments and retail space.
Both plans would result in demolition of the 50,500-square-foot building on roughly 2 acres at 860 W. 10th St. The Center
Township Trustee, which bought the building in 2004 after the YMCA closed, sought bids for a mixed-use replacement in
October. They were due Dec. 4. A bid from locally based Buckingham Co. suggests 210 luxury apartments, 11,000 square feet
of retail and an 8,500-square-foot fitness center spread over four buildings. A second bid, from locally
based Van Rooy Properties and several partners including REI  Real Estate Services, proposes a larger project that
would include a redevelopment of the Van Rooy-owned Campus View Apartments to the east of the YMCA property.
That proposal calls for 292 apartment units, 5,000 square feet of retail and 3,500 square feet of community
and support space. The Trustee plans to work with each bidder to develop a best and final offer, said
Phillip L. Bayt, a partner at local law firm Ice Miller LLP who represents the township. A decision is expected in early January.
Bayt declined to disclose financial details in the bids. But the offering materials suggested a long-term lease with minimum
annual rent of about $210,000, and an option to eventually buy the parcel for $2.9 million. No renderings yet, but stay tuned.
An earlier post is here.
Please enable JavaScript to view this content.