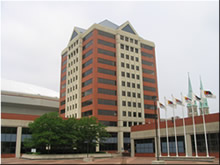 A local developer hopes to add restaurants and retail space and possibly more to Pan Am Plaza to capitalize on a growing convention center and the new Lucas Oil Stadium. Kite Realty Group Trust joined with Sacramento, Calif.-based Coastal Partners LLC to buy the plaza and two adjacent ice skating rinks from Indiana Sports Corp. The Sports Corp. announced the sale yesterday.
Terms of the deal and specific plans for the site were not immediately available, but people familiar with the project say Kite hopes to target restaurants and entertainment uses and also may consider a hotel. The company hopes to reuse the buildings that now house skating rinks and build a new structure at the plaza's southeast corner, which now is mostly vacant. Coastal already owns the 12-story Pan Am office building at the northwest corner.
Any major redevelopment would require cooperation from Armand Lasky, who owns Pan Am's underground parking garage. The unusual ownership arrangement helped sink previous efforts to redevelop the Plaza, but Lasky said today he talked with Kite and Coastal and plans to do what he can to help. Lasky has a lease with Central Parking that expires in 2010, but he hopes to take possession sooner if he wins a lawsuit that claims Central fell behind on garage maintenance.
Please enable JavaScript to view this content.