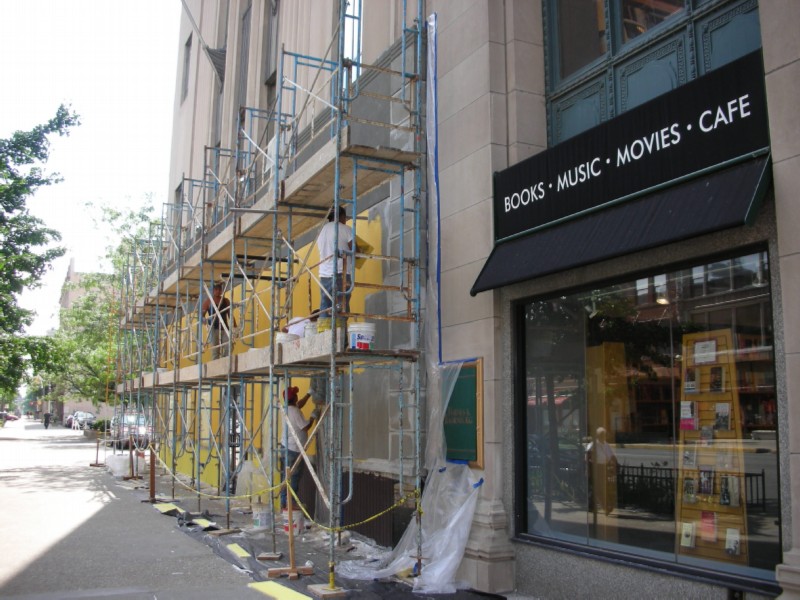 Wow, what a busy day. First off: No luck so far snagging a rendering of the new Buffalo Wild Wings under construction along Washington Street downtown, so for now check out this photo of progress on the restaurant. What do you think so far?
A little light reading

The Madame Walker Theatre Board has chosen a preferred developer for a mixed-use development and renovation of the historic venue on Indiana Avenue. They're looking at live-work condos, office space, retail, restaurants and a boutique hotel.
In the market for a Vespa, pontoon boat, baby grand piano, foosball table or flat-panel TV? Key Auctioneers plans to sell personal items of Christopher P. White, the founder of developer Premier Properties USA Inc., on Aug. 9. The full list of items available is here. To catch up on IBJ's coverage of Premier, check here.

Just beneath the surface …


Check out the old facade revealed as workers continue to transform Jefferson Plaza into Allen Plaza (shown at right). Hat tip to Dig-B. Good catch, CorrND.
Checking permits:

Casba bar on Guilford Avenue in Broad Ripple is adding about 1,000 square feet and remodeling the rest of its 1,700-square-foot space.
Mr. Dan's is planning a new restaurant coupled with a "No Limit Barbershop" at 2621 W. 16th St. near Holmes Avenue.
Sandor Development plans to build a new 20,000-square-foot corporate headquarters at 2222 N. Meridian St. next door to its existing building.
Walgreens is building a 15,000-square-foot drugstore at 7235 W. 10th St., near Girls School Road.

Adobo sets September opening



The new Adobo Grill on Washington Street downtown has made plans for a September opening, while the north-side Adobo location will become a gastropub/steakhouse called Pikk's Tavern, Renee Wilmeth reports on her FeedMe/DrinkMe blog today. Adobo is transforming the former bank space into a "two-level open restaurant" with an upstairs lounge and two large private dining rooms. The grand opening is Sept. 10. The other Adobo, at 86th and Allisonville, will close in mid-August.
Please enable JavaScript to view this content.