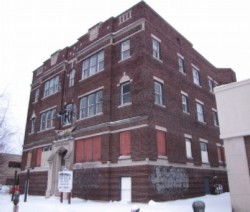 A local developer's plans to renovate a long-vacant
and graffiti-covered 1915 building along Meridian Street have hit a snag over a lack of parking. Riley Area Development Corp.
has proposed 24 apartment units for the three-story brick building at 1773 N. Meridian St. The city's planning department
endorsed the developer's request for a variance to a requirement for 24 off-site parking spaces. The building is surrounded
by surface parking lots and metered spaces, and several IndyGo routes travel along Meridian Street. "Urban sites should
be developed to the highest intensity possible," the staff report notes. "To require this site to meet the required
off-street parking standards would require the demolition of a portion of the building or acquisition of adjacent sites. Finally,
it is a common and preferred planning method that little or no off-street parking be added to a reuse of an inner city site."
But neighboring property owners complained, and a Metropolitan Development Commission hearing examiner last month denied the
plans. If anyone has a parking solution or spaces they want to sell, please speak up.
(IBJ Photo/Cory Schouten)
Please enable JavaScript to view this content.