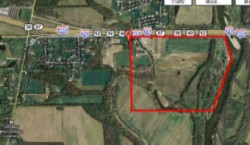 A local man wants to build a motorsports park complete with a Motocross track, one-fifth-mile dirt track
and ATV trails on 36 acres near Interstate 465 and Mann Road on the southwest side. Entrepreneur Dale Skaggs, who owns the
property under Skaggs Enterprises Inc., has applied for a variance to build the park in a floodplain along the White River
at 4107 W. Thompson Road. He's also are asking for permission to build restrooms, concession stands, and a bike wash and
storage area, along with access to the White River. The site previously was approved for eight softball diamonds, batting
cages and a concession stand. An initial hearing, scheduled for March 11, has been continued until April, said senior planner
David Hittle. The planning department last year recommended denial of a similar proposal, citing the proximity of residential
neighborhoods to what would be a noisy user, along with regulations on development in a floodplain, Hittle said. The developer's
land-use attorney, Mike Quinn, says the site is perfect for the area's first American Motorcyclist Association-sanctioned
Motocross track. Check out the proposed site plan.
Please enable JavaScript to view this content.