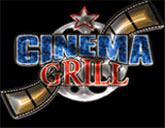 The combination movie theater and restaurant Cinema Grill has closed after almost 13 years at the southeast corner of West 86th Street and Ditch Road. The locally owned spot served pizza, burgers and salads alongside first-run movies. In a message on the theater's website, owner Ron Hahn thanked his loyal patrons. "I ask the community to continue to choose locally owned independent theaters by supporting The Movie Buff Theater just down the road to our West on 86th," he wrote. "I'm partnering with their owner to continue to work and serve this community."
Elsewhere:
Just Judy's, a homegrown breakfast and lunch restaurant, opened this week in a shopping center at 62nd Street and Binford Boulevard, next to Peak Performance. The restaurant previously operated along 54th Street west of Keystone Avenue but shut down in December. 
JT's Grille & Bar, a local restaurant with a menu ranging from breaded tenderloins to biscuits and gravy, took the former Just Judy's space in Broad Ripple.
Arby's has closed its restaurant along Market Street just east of Monument Circle. A sign directs diners to the chain's freestanding location along South Street.
Ossip Optometry is expanding its downtown office on the Circle to include the space just to the north that had been home to First Internet Bank.
Rag-O-Rama, a second-hand fashion shop, has closed its shop near Broad Ripple and Winthrop avenues.
Irvington Vintage, a new antiques and collectibles shop, has opened in the heart of Irvington at 130 S. Audubon Road. The shop is a collaboration of veteran Indianapolis collectors and dealers Tanya Yanan, Rick Wilkerson and Karen LeVier. The shop is open Tuesday through Saturday from 11 a.m. to 7 p.m.
BJ's Restaurant and Brewhouse still hopes to open a second central Indiana restaurant at Hamilton Town Center, but concerns about parking scuttled the deal reported here in November. Stay tuned for updates.
Please enable JavaScript to view this content.