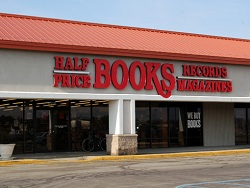 The popular secondhand bookstore chain Half Price Books plans to move its Castleton location several blocks west to a shopping center across the street from Rivers Edge. The chain will join DSW in the Broadbent-owned Clearwater Village Shopping Center just east of Kite's Rivers Edge at 82nd Street and Dean Road. Half Price Books plans to take 8,800 square feet and has set a target opening date of Aug. 23. The Dallas-based chain, which also has stores in Avon, Greenwood and at 86th Street and Ditch Road in Indianapolis, will close its store in Castleton Commons behind Castleton Square Mall a few weeks before it reopens at Clearwater Village.
One other retail note:
GFS Marketplace has filed plans to open a store in the current home of a Salvation Army Thrift Store along Michigan Road just north of 86th Street. The plans call for a remodel of the 16,195-square-foot space at 3620 Bethany Road. The foodservice distributor also has locations at 2370 N. Shadeland Ave., 4574 Lafayette Road., and 9540 Masters Road. The thrift store remains open.
New restaurants:
Mr. Dan's Hamburgers plans to open a new restaurant, its seventh, at the corner of 10th Street and Lynhurst Drive near the Indianapolis Motor Speedway. The chain is taking 1,950 square feet within smelling distance of the legendary Mug'n Bun Drive In.
Chicago Hot Dog Company plans to take 1,485 square feet in a retail strip along Michigan Road south of 86th Street. The restaurant is taking space next to Subway in front of Aldi and across the street from Walmart.
Dairy Queen plans to join Taco Bell and a proposed new Wendy's just south of Interstate 69 in Fishers, near Olio Road and Olivia Way.
Ellas Frozen Yogurt is taking 1,200 square feet in a strip center along State Road 135 north of Smith Valley Road in Greenwood.
Updates first reported on Twitter (Follow @PropertyLines):
Granite City Food & Brewery plans to open a restaurant on the first floor of Circle Centre next to Carson Pirie Scott. It sounds like the chain is taking the Bella Vita space. It would be the chain's second central Indiana location, after a restaurant at 96th and Meridian streets.
Noodles & Co. is taking over most of the former Blockbuster space at the southwest corner of 82nd Street and Allisonville Road in the Clearwater Springs shopping center managed by locally based PK Partners.
Naked Tchopstix has begun its build-out of the former home of Nicky Blaine's at the northeast corner of Washington and Meridian streets, below Jimmy John's and Qdoba. Nicky Blaine's moved across the street years ago.
Finally, if you missed our story in late March on Kite's plans for a Rivers Edge-like makeover in Carmel including a new Earth Fare grocery, Walgreens, City Barbeque, Panera and MacKenzie River Pizza Co., you can read it here.
Please enable JavaScript to view this content.