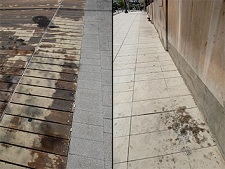 Sherry Seiwert has plenty on her plate as she takes over this week as president of Indianapolis Downtown Inc., but her first priority has to be Georgia Street.
The $12.5-million, stimulus-funded streetscape project is looking ragged despite weeks of maintenance work this summer after taking a Super Bowl beating, and it has lost, rather than gained, outdoor dining options.
Let's start with what's obvious to anyone who has walked the street: The materials Ratio chose for the project were wrong. The wooden boardwalk is badly discolored, the concrete pavers have been permanently stained by motor oil and traffic bollards seem to bend over with a stiff breeze. Indianapolis Downtown Inc., which is charged with maintaining and programming the stretch, should consult with the Cultural Trail team on replacement materials that will better stand up to traffic.
The poor condition of the pedestrian walkway isn't the only problem. The project's great promise was that it would drive street-level activity including sidewalk dining. So far, it has done the opposite.
Both Harry & Izzy's and Mikado—the two largest such operations before the revamp—have shut down sidewalk seating. Though the proprietors declined to discuss the decision in detail, people familiar with the dispute say it centers on a decision by IDI to ask restaurants to sign five-year leases charging per square foot to use the space (unlike the flat permitting fee levied in other parts of the city). IDI also is requiring restaurants take legal responsibility for the space year round. In other words, the restaurants would be liable for winter-time accidents even when they're not serving grub on the sidewalk.
The rent alone—about $3 per square foot per year, or about $1,600 per year for a patio space as large as that of Harry & Izzy's—is less of an issue than the multi-year commitment and liability requirement. The rent money will go toward maintenance.
"The positive side is everybody wants to see us have a patio, no one more than we do," said Jeff Smith, the operating partner at Harry & Izzy's. "It's gotta work for both sides. We're confident we can get it worked out."
IDI's Georgia Street manager did not immediately return a phone message this morning.
On the bright side for Georgia Street, The Pub has added a small outdoor seating area, Kilroy's continues to serve customers on a patio and Hooter's has applied for permits to build a raised outdoor dining area.
And IDI today announced plans for Second Thursdays on Georgia Street, beginning Thursday, Aug. 9, and featuring activities from 11 a.m. to 8 p.m. This week's event will feature performances by Drum Corps International, a Colts field goal challenge and cornhole and hula hoop tournaments.
Programming is important, of course. But Georgia Street also needs its marquee restaurants to offer outdoor dining. And it needs a Plan B on materials. Will IDI hold the architect, contractors or suppliers accountable for the street's poor condition?
Of the sustainable tropical hardwoods used in the boardwalk, Ratio says on its blog: "Their longevity and durability withstand harsh conditions, require minimal maintenance, and weather beautifully."
Except, apparently, in the case of Georgia Street.
Please enable JavaScript to view this content.