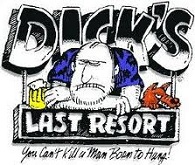 Are these guys morons? The privately held casual dining chain Dick's Last Resort plans to open along Maryland Street just west of Illinois Street. The Nashville-based chain known for surly servers who heave (mostly playful) insults on guests is taking a 6,400-square-foot space that's not been kind to similar (but friendlier) concepts including Houlihan's and Buffalo Wings & Rings. But Dick's management is confident the spot's proximity to the Indiana Convention Center and several hotels will work for its bar and grill concept that features a staff trained in the art of obnoxious. They plan to open in the fall. "We're all so kind here, they might have to import the rude people," joked Steve Delaney, who brokered the lease deal, but he says the chain owners "actually are very nice people." By the way, apparently women are more interested in stomaching insults along with their burgers and barbecue. Some 62 percent of Dick's customers are women, Delaney said. Go figure.
Other downtown restaurant updates:
Granite City Food & Brewery is working on the details of its plan to open in Circle Centre mall. The restaurant and bar expects to open sometime in 2013, and is set to take over the current home of Bella Vita and a small section of space that's never been leased along Illinois Street between Ruth's Chris Steak House and P.F. Chang's China Bistro. The arrangement would give Granite City both interior and exterior access, eliminating a disadvantage faced by prior tenants in the space including Bella Vita. The homegrown Italian restaurant remains open and is expected to remain a few more months. An earlier post is here.
Orange Leaf, the frozen yogurt chain, is joining the roster at CityWay. The Oklahoma City-based chain with 14 central Indiana locations also plans a second new shop downtown at The Avenue, at 10th Street and Indiana Avenue near IUPUI. Both projects are being developed by locally based Buckingham Cos. Also check out our earlier story on CityWay's retail lineup.
First Watch has opened its new cafe at 139 N. Illinois St. An earlier post on the Bradenton, Fla.-based chain is here.
Please enable JavaScript to view this content.