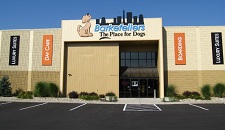 The popular Barkefellers pet hotel and spa on the south side plans to build a complex offering boarding, grooming, training and canine massage near Avon. Local owners Rick and Christi Coffey filed plans to build the 28,500-square-foot facility southeast of Rockville and Country Club roads, about two miles west of Interstate 465. The Barkefellers along Madison Avenue just north of County Line Road is known for pet pampering: The 21,000-square-foot building includes indoor/outdoor pet suites with private patios, multilevel cat condos and luxury suites offering Animal Planet programming and pet cams. It also has a natural outdoor play area and a one-acre play park complete with Astroturf. The Coffeys hope to open the new location in May 2013, coinciding with the fourth anniversary of the grand opening of their first Barkefellers.
In other pet news:
Pierson Bark Park, a seven-acre canine country club in Fishers, is adding a boarding facility with 15 dog suites. The privately owned park, carved from a farm field in 2005 by Heather and Andy Pierson, has 350 dogs as members who can play fetch with their owners, take walks around a brick path, swim in a pond or sun themselves in a "small or elderly dog area." The new boarding facility, fashioned out of a single-family home, is set to open in late October.
Canine Cloud Nine, a gourmet dog bakery and grooming salon founded by local entrepreneur Sean Litke, has opened in Sophia Square at Main Street and the Monon Trail in Carmel. The shop offers Indiana-made treats with natural and organic ingredients, professional grooming, celebratory doggie-dye for holidays or special occasions, and even a self-wash room so owners can bond with their pups over a bath. A dog Halloween contest scheduled for Oct. 27 will benefit the Humane Society of Hamilton County.
Please enable JavaScript to view this content.